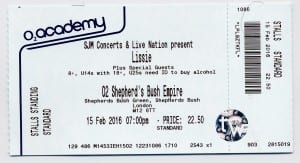 Due to structural problems at SBE, this is another gig that was moved to The O2 Forum. There was a bunch of people waiting quite early & it turned out they were doing the M & G with Lissie. I asked security where the O2 Priority queue was & it was where i'd already stood. Interestingly, unlike other O2 venues, at this one both the "normal" queue & O2 queue go in at the same time. Kinda defeats the point of priority. No wonder the cool security chap said they'd had a few complaints about that. Whilst i do see the argument that if someone has queued for hours in the normal queue & then someone turns up for priority queue, they could get in quicker & it's not exactly fair, i'm the kinda guy who likes to have his cake & eat it! 😉 So, for time being, if you wanna be sure of front row, get there early & see how many people are in the queues & join the one with the least…
Turns out that tonights opening act "The Travelling Band" are also going to be playing with Lissie, so they have their work cut out. Must confess, they didn't really do anything for me 🙁 Though it's obvious they're great musicians, especially when Lissie says they've learnt about 20 of her songs in under a week! Actually, i thought they also looked like they were enjoying things more when playing for Lissie. Tonights set was pretty varied & obviously there was a bunch of songs off the latest album " My Wild West ". The opening salvo of " Hero, Sleepwalking, Shameless, They All Want you" totally pulled me in. I just knew this would be a special gig.
I found Lissies interaction with the crowd to be both funny & sincere. " Some people don't like my hairy armpits" (or words to that effect lol). She's a bit of a hippy i guess. Told us stories of buying a lot of land as she wants to turn it over & help the environment. She seems such a warm & genuine person.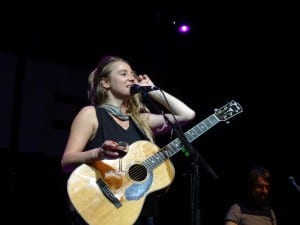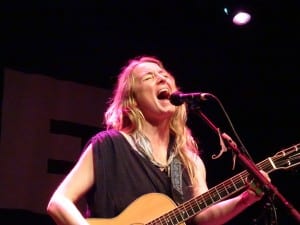 It was a great night & certainly won't be the last time i see Lissie. Afterwards, i briefly met my friends Julia & Nadine. Quite funny we'd not seen each other for ages & yet within the space of a couple of weeks we'd reconnected twice (Skunk Anansie night was great fun). When i got back to Cockfosters my car was iced over quite hard. Still, didn't take long to clear it. Got home around 02.15 am.