A free event, so no tickets.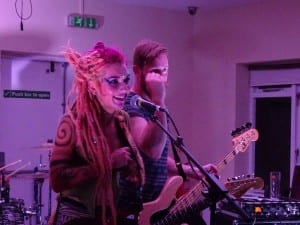 This was another case of frustration about not being able to get to a gig as i'm not allowed to drive ! Arrrrggg! Well, luckily enough, my wonderful niece offered to drive me there. Thank you Alice 🙂 We got there early & went to Subway for food. Once parked up in town, we made our way to the " Black Swan ". Having not been in Spalding for many years, a few old memories came flooding back to me : In the '80s, a few of us would go there to see a local band, "Camargue" at The Pied Calf pub. Another thing, there used to be a hifi shop, "Welec Hifi" close by. I was quite surprised to still see the shop with all the signage there….then i noticed it was empty. The real significance of Welec to me was back in 1985 i bought a "Sony Professional" portable tape recorder to record concerts with. At the time, it was probably the best small-ish portable recorder with manual recording levels etc (Measured about 7 x 4 inches ). It cost a LOT of money, around £250 (at the time, i was probably being paid about £35 per week at work). I remember when i'd tracked it down to Spalding & went to collect it, the manager said " We thought they'd sent it to us by mistake . We'd never seen anything like this before ". Well from 1985 till about 1990 that deck served me very well capturing maybe 150+ concerts 😉 
I digress…. HOG were still sound checking when we got in the pub, so we got drinks & had a couple of games of pool. Yes, we were both rubbish at it lol. Eventually it was time for the first band of the night, " Desensitised". 3 young ladies who come from Nottingham. They played a lot of own material, so respect to them for that. As an opening band, they were ok. Afterwards i went for a pee & the geezer next to me said "It's a bit cold out there now…" Kinda strange to talk with others at the urinals lol. He was in the band HOG, maybe they're a bit more open about that stuff if from Yorkshire way ? ( Hello Joe) lol
Next it was " Don't Look Down", a band from Stamford. These guys seem pretty tight & i'm sure they must have played together for quite a few years. They were a different sort of sound to the first band, which was refreshing. They thanked the crowd for turning out & supporting live music. Something everyone should do nowadays as there are less & less smaller venues to see bands at. Again, a decent set & another good warm up.
I had a nice chat with Helen Tate (Laurens mum) & bought the CD ep. I'm now awaiting for the release of the full album 😉 I must confess, i was surprised when she told me that if they did a "Pledge" campaign, they would have wanted 15% . So not surprised they've decided to do it on their own 🙂
Finally, it's headliners Hands Off Gretel. By now, the venue has filled up nicely. I'm pleased we got our spot down the front early 😉 This was my first time seeing them live, so everything was new to me. From what i've seen online, Lauren has been around for a few years & has done solo stuff as well as having various bands such as the Bankrupt Brothers along the way. It seems she has now reached the point she was searching for with the latest incarnation that is the wonderful " Hands Off Gretel ". Their sound reminds me very much of an amalgamation of "L7″ , " Courtney Love " & " Nirvana ". A very '90s grunge feel to it. Do yourself a favour & check out the old covers on Youtube of songs such as " Zombie " (The Pretty Reckless) , " What's Up?"( 4 Non Blondes) & " Whole Lotta Love " ( Led Zep-accoustic version). Some of these songs Lauren was only 13 or 14 years old !. They show the quality of her vocals & she reminds me of Lzzy Hale (Halestorm) in the way i think she can sing anything & it sounds great. But back to now. The in your face grunge that is HOG.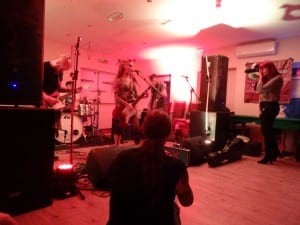 ( Gary & Helen taking photos before everyone moved forward 😉 )
They all seem to have a lot of fun onstage & that's always a great sign. I love the fact that they seem to be doing things on their own terms as well. For myself, Lauren comes over as a bit of a Jekkyl & Hyde kind of person. Whilst she may look all "girly & innocent", once she opens her mouth & sings with such raw passion, you'd better believe she's not to be messed with. The guys all seem very solid. They all have their own entertaining quirks 😉 The short set got a great reaction from the packed out crowd. It was a great set & i look forward to seeing them again 🙂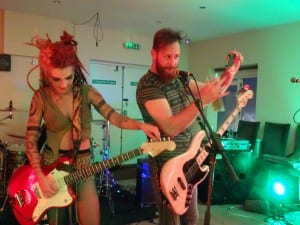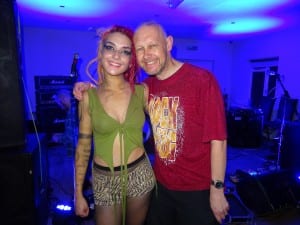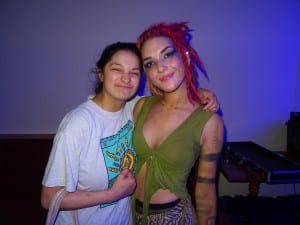 EDIT : I've been very slow getting my last reviews up. During that time, i noticed that Shirley Manson has also discovered HOG. She was bigging them up on Twitter (Or was it FB ?). Wouldn't it be great if Shirley/Garbage offered the opening slot on some gigs to HOG? I know that nowadays bands have to "buy onto " these types of tour, but, it really would be cool if Shirley was to offer the slot for free & give HOG a leg up. C'mon Shirl ! 😉