30-5-19 Scroll down to see the update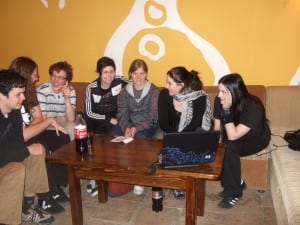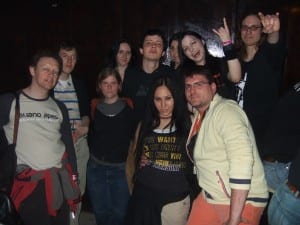 Now this one was VERY special. The second show since the reunion (I look at the one in Portugal as a "warm-up" & this one the real deal) A few of the hard core GA fans made the journey for this one & were rewarded with one of the best shows ever ! What a great great set list ! I got to film the whole thing & made a mini documentary of the visit etc. The only downside was that my camcorder/mic had a problem, so it was full of dropouts. With HUGE thanks to Ingo/the band, i was sent the soundboard audio, so i mixed it with my audience audio, for a nice ambiance.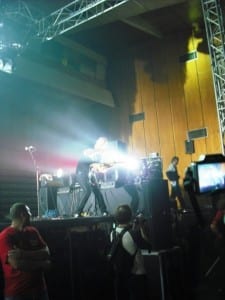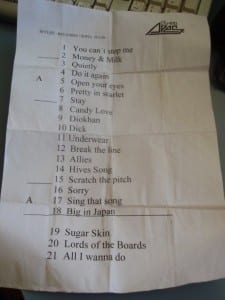 (Nats setlist)
A little special something i made…
————————————————————————————————-
Edited 30-5-19 : I found the original write up on another PC !
THIS is THE GA show I've been looking forward to most, for a few reasons : Firstly, it's the only indoor show on the summer tour. Secondly, I've never seen such great reactions of fans in the forum. Knowing the band are also very excited to be playing in Sofia, this really has the makings of something special. Oh yeah, a funny coincidence; earlier in the year I'd got in touch with Alberto (he used to be in Underwater Circus some years back & I'd filmed them a couple of times) & he mentioned he'd be joining the Apes in Sofia. I was unsure how many songs he'd play with them, but, it would certainly add something to the mix.
Of course, many of us also thought Sofia would be the 1st reunion gig, but then a festival in Portugal was added at last minute. In hindsight, its probably best they got a show under their belts before this one.
Again, a bunch of the Usual Suspects are travelling to the show. We will arrive in Sofia at different times/days, eventually meeting on show day.
For the 1st time, I'm using Gatwick airport to depart. I estimated it would take around 4hours to drive from Boston to there. With a very early morning departure, its not worth going to bed on Friday. I leave around midnight & it takes around 3 & half hours to get to Gatwick. What a great start : Looking at departures board, I see my flight is delayed 45minutes!
Eventually we leave & the pilot tells us he's made a request to ATC to fly a different route to try make up time ! I think it worked 🙂
Upon arrival in Sofia airport, Joana (Guanasic) is still waiting there for me. We then get a taxi sorted out (with Joana taking no crap from the woman on service desk "Hey we were told it should be around 10Levas,, not 15!). How nice it was to travel in a taxi with no rear seatbelts (well, there were belts, but no where to fasten them!) & a crazy driver whilst the weather is throwing it down!
Still, he didn't rip us off & got us to "Hostel Mostel" ok. Once through the small front door, we first see Jasi coming to greet us. We're then shown to the room we're sharing with the others. After some catching up, Marc says the plan is to go to the hall around 3pm where he'll meet the promoter Angela. With some time to kill, I ask if anyone would like to have a quick look at the Braga film I've brought to give the band? Stupid question! 😛 But there's a problem; no ones brought their laptop & all the computers in the hostel only have CD drives. Then Jasi spies an unlucky victim 🙂 There's a guy sat engrossed in stuff he's doing on his laptop. Cue Jasi casually going over & sitting next to him all nice. Soon enough, she's persuaded him to try playing the disc on his laptop (Me :"Dude, you've lost that for the afternoon now!" Actually, he was a real nice guy & it wasn't so much of a problem for him to let others use his laptop. Just funny how it all came about) So everyone's sat around the table reliving the show. Occasionally stopping the disc to comment on how songs are played different etc. Of course, in Braga there were problems with the stage barrier & security. So as the show replays, the further in it gets, the less smiles there on everyone's faces. But I think everyone still enjoyed seeing some of the show again. The guy on hostel reception orders us a couple of taxis & we're on our way to Universada hall. It's still bloody raining. Once there, we somehow split up into 2 groups & some people go in the hall whilst others are left outside wondering what's happening. I go try track down the others & see DJ, Silvia & Lucky wandering off towards some shops. Eventually everyone leaves the hall & we go in search of the others. Soon find 'em in a small café. Whilst the cakes looked appetising, I fancied something a bit more substantial (beer? lol) as hadn't eaten anything all day. We then go try find a pub that some of the guys had already visited. In the end, not finding it, we go to a pizza place real close to the venue.
Whilst the "salads" in there were questionable, the pizza I had went down a treat. I'm now ready for the show.
The venue is a nice size with a raised seating area. My initial thought is to go in the seats & film part of the show from there & the rest down the front.
The support act are quite heavy & get a decent reaction from the crowd. It's great seeing the whole place pretty much packed even before GA come on. The only problem though is my ideal filming spot is now no good. Before they finish their set, I decide to nip backstage to say hello to the guys in GA. Dennis says I'm getting fat & Stude says I'm going bald. Yeah I love you too guys lol. Have a brief chat with Alberto, quickly say hi to Henning & then leave everyone to prepare for the show. I head down the front & see there's already many photographers in the pit. Decide to stay side stage for a while. Then, a couple of people on the front row ask me if they can buy my WOATL shirt! I tell them it's old merch & no longer available. "But what about new stuff? Can we buy that?" I didn't realise, but, the band didn't bring any merch with them. Just think how much they could have sold to an audience that was so appreciative of GA visiting Sofia. Maybe next time eh ? 😉
GIG
—-
Before they're onstage the crowd is already quite vocal. Once YCSM kicks in, the whole damn place is just rocking. The cheer at end of song is deafening. During "Quietly", there's a great photo opportunity for the many photographers in the pit, when Sandra lies on her back & carries on singing the song. Maybe not the most flattering angle , but still captures the moment. Sandra says how it's the first time for GA to be playing in Sofia & that they "feel like virgins".
"I guess that nobody here is a virgin anymore? No way! So we should Do it Again right?" I think Albertos backing vocals fit very nicely with this one. Next it's back to old school Guano Apes , as they go straight into "Open your Eyes". OMFG this just rocks! Looking back & seeing the audience loose their minds is just amazing This crowd is also bloody LOUD!
When Henning plays the intro to "Pretty in Scarlet" there's a huge scream from the audience. Obviously this is a favourite 🙂 Hearing the crowd singing along so loudly with Sandra is just beautiful.
"Candy Love" is a lot of fun. Already this is a fave song in the set for myself. "If you ain't sweating, you're doing nothin!" There's a funny moment when Sandra goes side stage & turns her backside to Alberto (?) with a "Kiss my ass" kind of gesture. Funny as hell.
Afterwards, Sandra says she sees to many shirts & asks the guys to take them off & a lot of them do. (hmm discrimination, what about the girls 🙂 ) I guess a few people would be going home without a shirt as quite a few were thrown to the front!
Now everyone's good for "Diokahn". Damn this is so heavy. Before "Dick" Sandra says "Its the longest one in this band" Hmm what could she mean? Again, this so rocks so much. Sandras screams are so powerful. Certainly nothing seems to be held back, she just going for it. Stude has some kind of technical problems but still has a smile on his face.
Towards the end of "Underwear" there's a slight mess up, but its soon turned around & I doubt many noticed it. "Break the Line" is sounding better than in Braga. It's still kind of strange listening to this song nowadays as, even though its a fantastic song, I still cannot help slightly associating it with the bad times. I know I shouldn't, but just cannot help it.
After this, Dennis starts the drum intro to "Allies". This is such a big song live. Absolutely love Studes bass sound at the beginning. A funny thing happens whilst filming which I almost missed: Often I'll have one eye on the subject I'm filming, whilst the other is looking elsewhere to see where I'm going next. Well, I'm stood directly in front of Stefan, he's filling the shot & I'm looking over at Henning/Sandra. I didn't notice it straight away, but, Stefan moves forward & starts pulling faces into the camera. I didn't have it framed correctly, but just caught it. Again, when they "restart" the song at the end,its killer. Just love to see Sandra throwing shapes & generally going crazy 😉
Well, it's only the 2nd time I've heard/seen the new song "Hives Song" & it's becoming a favourite already. When Stude goes over to Hennings mic , for the "hey hey hey!" part its very cool. Again, just seeing the fun they're having with it, is just great. Also, when Sandra pushes both Henning & Stefan its such a laugh. I just love little moments like this. Oh also Hennings little Chuck Berry duck walk has to be mentioned 😉
Next they seem unsure if it's "Sorry" or "Scratch the Bitch" 😉 next. They do Scratch & Sandra does some interesting vocal change in the song. Next up, Henning mentions they've brought a friend with them; Alberto. Sandra says "He's brought just for the girls (& under her breath says to him "Get your top off!") She then introduces him as Alfonzo! "Yeah! That's not my name!" They do a great version of "Sorry". After my initial doubts about the song, I really love it. Actually think of all Sandras solo songs they've played, this one works the best in the set.A rare thing happens; Sandra goes down to the crowd & gets on the barrier. Then moves along a little & is amongst the Maniacs. No doubt this will forever be a memorable moment for Joana as she got to sing a bit of the chorus. Nice one!
There's a great version of "Big In Japan" & then they've gone from the stage. But there's gonna be encores right? The crowd is deafening! When the band comes back on stage, Henning says "MY god they're so loud!" Sandra gestures "One more? Two more?" Stefan teases us with a snippet of Rain. Sandra then says there 2 more songs. We didn't realise it at the time, but, "Sugar Skin" was on the setlist next, followed by "Lords of the Boards" & "All I Wanna Do". They drop "Sugar Skin" & switch round Lords/all i wanna do. This is first time hearing All I wanna. I'd been told that it was a very up-tempo rocker & it sure turned out to be so! I love how they started it with everyone crowding around Dennis. This song just kicks. I could just imagine the guys jamming this when they first got back together. Again, the word here is FUN!
Before you know it, its the final song of the night. What could it be except for "Lords of the Boards". The crowd just goes off one more time.
When they finish the song, Henning gives the nod to Alberto to have his fun & stage dive. Very cool. Finally Stude smashes his guitar into the bass drum & that's all folks! Sandra comes back onstage with her camera & gets the guys to pose for the group photo with the great Sofia crowd behind them.
All i can say is WOW! Just WOW ! This show was just bloody amazing. The crowd, the band, everything just was the best. This is up there amongst my fave ever GA shows. Sofia, you did yourself proud. Guano Apes you showed everyone what a fantastic "new" band you are. I'm just gobsmacked. Words cannot describe how much I enjoyed this . My fave band are back in so many ways.
AFTERSHOW
———-
I go see my friends & everyone's euphoric. Briefly taking with Jasi when she suddenly dives back into the dispersing crowd. What was that all about? Few mins later she reappears. Turns out there was one selfish little git in the crowd that decided he'd steal the drumstick Jasi had caught. Why is it there's always one bad apple…? Hey "Big man", if by chance you're reading this, I hope you're proud of the fact you attacked a girl just for a drum stick. Idiot. Don't bother going to the next GA show as tools like you are not welcome. *rant over*
We're all chatting at the stage barrier when Henning comes out front. Seems the feelings mutual : The band really enjoyed the show as much as us lot. The first visit of GA to Bulgaria has made a huge impression on EVERYONE.
We wander backstage to see other band members chatting, signing autographs & posing for photos. Smiles everywhere. After sometime we realise we should try getting a couple of taxis to go to the aftershow party at club….. Let the "fun" begin !
TAXI
——-
Upon leaving the venue, a taxi pulls up across the other side of the busy road. By time 2nd group have crossed, another taxi is there. 1st taxi pulls off pretty quickly. Now this is where the evening goes downhill ! I think we might be about to "have some fun" when I say to the others "Did you notice the other taxi went off in opposite direction to ours?" Lucky rightly replies "There are many ways to get to same destination". My fears are soon realised; we got the worse taxi in Sofia! Our driver is talking on his mobile phone & pulls up a couple of times. Is he lost? Asking a friend for directions? Who knows, its not like he cares about his passengers or anything. Well, after driving & stopping 3 times, we're sat there & he's looking at us as if to say "Hey we're here! You should now that!" I cannot see the club & ask where it is. The driver just points vaguely. Before I know it, someone's paid him & were out of taxi. Hmm so where is the place ?? We ask a couple of passers by. One doesn't know & another points us in opposite direction to where our wonderful driver did! After sometime wandering aimlessly getting no closer to the venue, I'm getting seriously pissed off. Tiredness is kicking in (its early Sunday morning now & I've been awake since Friday AM !) & I just don't want to be here. Beginning to think the best option would be to go back to the hostel…but sods law says we'll get the only taxi driver in Sofia who doesn't know where the place is 🙂 I must apologise to the others for my crappy attitude. As I said, tiredness was hitting me big time, coupled with being in a situation that could have been easily avoidable ( "Hey! Follow that taxi!") makes for a very grumpy Simon!
So, one last ditch attempt : Another taxi to take us to the club! Well, this time at least he points to a club. But its obviously not what we want. As luck would have it, we are close. Hurrah! It's in street behind this place. FINALLY!! Or maybe not….
We see the place is quite busy outside. I notice a couple of girls that I'd seen backstage at the venue. Hmm, why are they outside? Club age restrictions maybe? Then we notice the guys on doors are turning people away! What?!! Ok, I go to the door. "We're here for the afterparty.." He doesn't understand me & gestures I talk with the other knucklehead on the door. Might as well be talking to a brick wall (probably has more brain cells!) as instantly he has an aggressive attitude " You no come in!" I'm as good as pushed away. Lol when I thought the night couldn't get worse… Then it comes to me; surely by now the others must be wondering where we've got to? I mean, I don't know how long we've been in the twilight zone but it certainly seems ages to me (But I may be wrong as I've just lost all track of time) Check to see if any msgs. Nothing. Next try phone Jasi & it goes straight to answerphone. Ok, the music's loud, maybe cannot hear. Next try Marcs phone. It rings a couple of times then is cut off. Finally!! A few mins later Marcs @ the door & gesturing to the knuckleheads to let us in. Follow him in to this packed out place. we're like sardines in a tin. Everyone's who's already here is partying away.
I have trouble getting into the correct mind space. Again, tiredness is playing a part. Damn I wish I could just get hammered like everyone else!! But I cannot cos I have to drive when back in UK tommorow…erm I mean later today!
Well, with everyone having so much fun, it eventually rubs off on me & I get into the moment. Yeah, finally relaxing lol It's cool to see all the band members & crew here just letting their hair down (Sure there could be a joke here) Stude is maybe the most drunk, yet at the same time we have a very coherent conversation about the band getting back together, what he does during time off (congratulations on the 2nd child ) & all points in between. It really is a party atmosphere in here. Kinda funny to see the various band members reactions when a GA song is played & volume is turned down for chorus whilst most everyone in the place sings along. Again, its pretty magical. There's even a mini mosh pit going on!! damn I wish I'd shot video or something .
Well, time gets on & eventually the band leaves as do many of the revellers. Mindful of the earlier taxi fiasco, I suggest it might be an idea to be thinking of leaving soon. Hell I don't wanna end up stuck here or something silly lol Well, eventually everyone's up for going back to Hostel. Whilst leaving we bump into Alex. Seems surprised we're leaving. Now the best thing : He says "Let me order you taxis that way you wont get ripped off etc". Those words are like finding water in a desert 🙂
Sure enough, we're soon on our way back to hostel. Then Joana asks "Hey, where's Lucky?!" Hmmm I thought he got in the other taxi? Or did he? Well, it's not like we can turn back.
Once back at hostel we say our goodbyes to Pezi & Marc & then its off to bed. Man I musta been all of 3 minutes before I was fast asleep!
Morning seemed to come around too soon….well we only had a few hours….& I see Lucky already awake & ask when he got back. Turns out he walked the whole distance from club to hostel! Crazy!
Once everyone's up, myself Joana & DJ say our goodbyes to Jasi (she's staying a few more hours for SHOPPING ) & leave for the airport. Once there turns out DJ needs to be at other terminal so we say goodbye.
Soon enough we're on our flight to Gatwick. Upon arrival I say goodbye to Joana,as she has to go await her connection back to Portugal.
My drive home goes fine. I expected to feel tired, but no problem. Once home the first thing I do is order a Cantonese takeaway! I'm starving 🙂
Next I have a quick look at the film I made in Sofia. Oh crap!! The sound has lots of dropouts & it "comes & goes". Damn, it's second time this has happened recently. Oh well, shit happens I guess 🙁
Next I check the forum to see what feedback there is about the show. As expected, everyone is raving about how great the show was. It seems Guano Apes have certainly made their mark on first visit to Bulgaria. Hey, how about 2 nights next time guys ? 🙂
My final thoughts after seeing the first couple of reunion gigs ;
I've got to confess, like some others I'm sure, I was sceptical about the reunion. I mean, could this really work again? Is it happening for the right reasons? Seeing the in band interaction @ Braga (both on & offstage) I went away with positive thoughts but still wasn't 100% convinced.( I think it was a case of a daren't believe it cos I didn't want to be disappointed maybe) However, Sofia sealed it for me : I can just see good things. Everyone's really enjoying themselves. The positive vibe is infectious. This is not just a band getting back together again, it almost feels like a NEW band. It's hard to describe. I really can see a good future for the band (assuming they want it).
One last thing, i doubt they'll ever top this show !