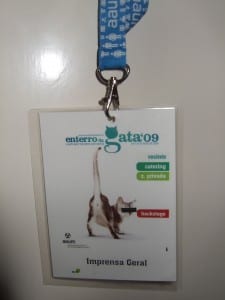 This review was updated 7-6-18 (after i found the original files about it on my old PC which described everything. ) Yes, i HAD forgotten some things about the trip 😉  Airport metro violet (E) line to Campanhã 1,45 € takes 33mins Train Porto – Braga : 2,15€ (about one hour trip) concert ticket 12 €
Well who woulda thunk it? Guano Apes back with us in 2009?!!
I guess this one caught all of us on the hop. For once i was out the loop & it came as a total surprise to me also (actually,info was deliberately held back from me which was quite nice as it was such an amazing thing to find out,totally out of the blue. I felt the impact more i guess. Thanks mate 😉 )
So, lets go back to around February of this year : Like a few of the other GA diehards, i was just checking out the forum when someone (I think it was DJ who found it) posted that GA were listed on NovaRock festival website. WTF? Could that really be true? I got a whole bunch of emails asking what i knew about it & i couldn't give any info as i knew nothing ! So, there was only one thing for it; contact the people who will know 😉 Well, i got a quick mail from someone confirming it was happening & then i had a great phone call from Henning. The first person had kinda jumped the gun (how many minutes ago was the "big meeting"? lol) ,but, i know he was as excited as everyone. Henning gave me info on everything & told me of around 8-9 festivals that were so far confirmed 😉 I was just grinning from ear to ear. GA playing around Europe again What amazing news! Needless to say, i asked if i could post in the forum confirming the reunion. I got the ok, so just watched as the forum got busier & busier. All the old faces started returning & there was such a buzz around the place.
After the initial excitement, the reality of them coming back to do the festival circuit hit me : Its gonna be expensive & if truth be told, i'm not a huge fan of festivals. But hey, its Guano Apes so a bit of effort has to be put in.
It was great chatting with the Guano Maniacs/Usual Suspects arranging where & when we'd meet at the shows. There's gonna be more than one "reunion" in 2009 !
As on the last tour,the band have been kind enough to allow me to take along my video camera to document the shows i'll be seeing. I'm hoping at the end of this tour i'll be given the ok to upload various clips to Youtube for everyone to watch & enjoy. With the scheduling, i don't think i'll manage to make it to many shows this time,but lets see how it goes.
So, once again, Let the tyres kiss the ground!
10-5-09 . So here it is ! The first reunion show of Guano Apes. What better place could it be than in Portugal ? They were always pretty big over there, so it certainly fits to kick off there. How will it be? What surprises are in store?
Will it be good,great or, dare i even think it…rubbish ? Who knows,but we'll soon find out…One of the great things about Guano Apes gigs is that its not just about the band; the fans play a large part in it. Or rather, should i say, its a chance for a bunch of friends to reunite as well.
There's a few people that used to travel to a lot of GA gigs & whilst the bands been away, we've all kept our friendships,even if we haven't all managed to see each other.Its gonna be great meeting everyone of the "Usual Suspects" again. So, along the way, paths should cross with Jorge & Joana from Portugal, Jasi from Switzerland, Marc,Pezi, Nadine & Gabi from Germany, DJ from Netherlands, Shuki from Israel,Silvia from Italy, & of course,myself from the UK. No doubt more acquaintances will be made along the way. Yes a nice international fan meeting.
As usual, i don't bother going to bed the evening before my flight, journey to Stansted goes fine & i'm soon on way to Portugal. Upon arrival, i'm greeted by the familiar smile of Jasi. Great to see her again after these years.The various time schedules should work out well: Jasi arrived some 50 minutes before me. Once we meet we then take a train to Campanha where if all goes to plan, Jorge should arrive about 20 minutes after us. Voila! Everything fell into place.Whilst on the train, Jasi gives Jorge a small present.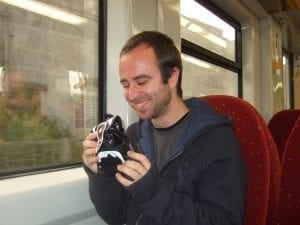 Later, feeling hungry we try find a cafe or something,but this place is dead. We then go to São Bento as Jorge knows theres a Maccy Ds there.
Its kinda strange as the train station is quite an ornate building & the entrance to Macdonalds is part of the facade. In fact, inside this Maccy Ds it looks quite different to the usual "everything the same" structure of a Macdonalds. Quite a pleasant change really.
Once the snack is finished, we take a train to Braga where we've arranged to meet Shuki (we were a little sneeky telling Marc we wouldn't arrive till later as we wanted some time to look for a birthday present for him) We find Shuki waiting for us in the station & off we wander in search of some kind of gift for Marc. Along the way Shuki tells us that basically Braga is pretty crap for shops & we soon realise he's right! Add to that the fact its Sunday & most places seem shut,we don't have much luck.
In the end we have to settle for a small shop that is crammed full of all sorts of souvenirs which is run by some very savvy oriental types. Whilst they don't seem to speak too much English, they do know when there's an opportunity to make a sale ! Classic example when it started to rain a little & they pushed their umbrellas!
Once we've made the purchases, we then go meet Marc & Pezi. Again, great to see them after these years.
Marc tells us of how lucky their flight was : They took same one as Guano Apes did ! So they had some nice chats & got to see the new merchandise before anyone else. A good coincidence Marc & Pezi DIDN'T have was excess baggage charge …unlike the band 😉
It turns out that Marc has tried to arrange a meet n greet with the band for the hard core fans that have done a lot of travelling & stuck with GA over the years.Cool idea.
As we wander through Braga towards our hotel we also look for some place to eat,but, don't really find much.We briefly stop & a unsuspecting passer by is enrolled to take a photo of the Usual Suspects (well, most of us anyways). I think this is a fantastic photo of us all.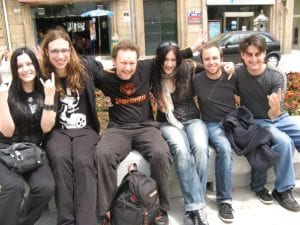 Walking a little further, we see the occasional fly poster advertising the gig. Dunno if anyone actually managed to remove one or not.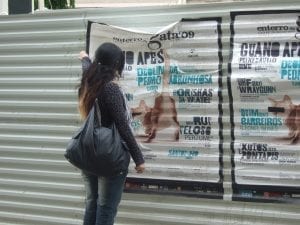 We finally get to the hotel where i checkin then go to my room. The others stay in the reception.
I decide now is a good time to give Henning a ring & see whats happening with soundcheck etc. He tells me that there is basically nothing near the festival site so doesn't think it worthwhile we go up there too early.
As is always the case with first nights of tours, not everything is running to schedule so he suggests that the little fan meeting would be better scheduled for around 10.30 onwards & i should phone him once we get to venue.During our chat the phone in my room rings. Its Shuki telling me everyone's gone to Marc & Pezis room & i should go meet them there.
Ah this unassuming room looks no different than others;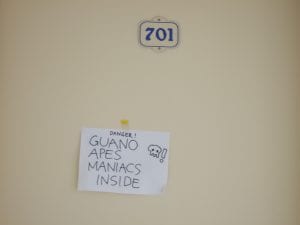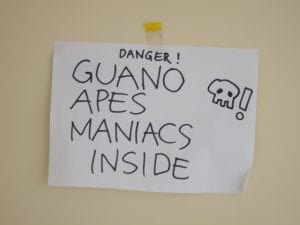 There's already talk of the Maniacs going to venue early so they can secure the front row. For myself a more pressing matter is food. Myself Jorge & Shuki wander off to a supermarket with intention of getting some snacks etc. In the end, the idea of a "full meal" from there is knocked on the head & we just get beerz , crisps & the infamous bottle of port….just who DID have that ? 🙂
Later Shuki goes to meet Joanna & DJ whilst myself & Jorge go back into town in search of a decent place for everyone to have a meal later. After wandering around for ages,we only find a couple of places worthwhile & set off back to the hotel as it starts raining.
It's decided we'll all go for a chinese meal & the others will meet us later.
Leaving hotel we seem to "lose" Marc & Pezi. Turns out the idea of getting front row is more important than food.
There was a priceless moment when we were having the meal,or rather,when finished. Shuki asked the waitress for some toothpicks. Seems he understood Portuguese better than she did as she brought him….a calculator 🙂 We all had a laugh at that.
Soon enough we're on our way to the festival site. Upon arrival it appears doors are running a little late. But i think this worked in favour of the Guano Maniacs as when there was some "rearranging" of the queue,they ended up @ the front.
I go collect my photo/guest pass & just before the doors open i go in the place to check out the layout & see if i can find anyone from the band/crew. Pop backstage & none of the GA crew are around.Pretty sure they're still away having the meal. I see a bunch of people fooling around. They wear strange clothes with hats that are like pirates lol. What a weird bunch they are! (I later find out they were up onstage!) I'm sure doors will have opened by now so go back out front to see the Usual Suspects. Needless to say, they've all got positions on the front row.
Whilst chatting with Jasi she points out that the stage barrier doesnt look very secure.Hell two joining sections are movable very easily & this is before theres a few thousand people pushing against them! Think to myself "this is an accident waiting to happen". Honestly, this was totally unprofessional & shouldn't have happened. Speaking from personal experience, I've been in a festival crowd when it all went seriously wrong,resulting in deaths. Said festival was the "Monsters of Rock" @ Donington park in 1988.There is a public report covering aspects of the day here http://www.safeconcerts.com/documents/Donintondisaster1988.pdf & it resulted in what is known as the "Purple Guide" .This is an industry guide to health & safety @ concerts etc.So out of the tragedy at least some good came for the future.I guess they weren't aware of safety standards at this Portuguese gig.
But i digress…back to the good stuff…
Then i hear a voice behind me " So you're not answering your phone are you?!!" Its Henning. Seems he tried phoning me a couple of times but with the noise etc i didn't hear-sorry buddy. Anyways, he's arranged that everyone can now go backstage for the meet n greet. So "Who wants to come"? There's a few startled looks of "Oh its Henning!" Then its decision time : go backstage or stay on the front row. In the end there's just 4 of us that go back. Gradually all the band are with us & everyone's having nice conversations.Its like those years away never happened. Drinks are given out & then Dennis (?) asks if anyone would like a new T-shirt. Duh! Yes please 🙂 So we are the first to get the new merchandise. They're actually not selling them here tonight so its even more "unique".  
 Its great seeing EVERYONE again. Whilst i'd seen the guys a couple of times @ iO shows, i'd not seen Sandra since the final tour.(Had only briefly spoke on phone whilst she was recording her solo album). But the weird thing is, it just doesn't seem like its 4 years ago i last saw her. Hugs all round.Damn its great to see everyone again. Its kinda surreal.
Whilst we're all chatting & drinking there's a guy that's filming everything going on. Later, one by one, we all get our cameos on camera. As ever, i prefer to be the other side of camera & get a bit tongue tied. But good ol Dennis steps in & says something to the effect of "Simons been with us for years"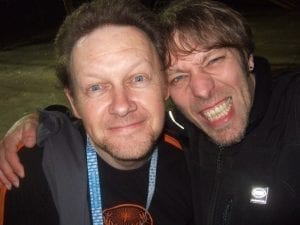 Well finally its time for everyone to go back out front & i realise i should have took some photos.This is typical of me : Always forget to take photos because i'm so involved in whats happening lol. Marcus (tour manager for PT) kindly took a couple.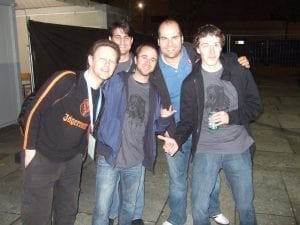 Surprisingly once we're back out front its not got much busier & the guys secure pretty decent places.
I go for a wander all around the site & decide best position to start filming the gig would be to the left in amongst the crowd.Then, depending upon how crazy it gets, i'll either stay there or go down in front of the stage.
THE GIG : I loved how they started the gig. No great fanfare or long intro tape, they just wandered on stage, Sandra said "So here we go again" & they're straight into "You cant stop me". A great set opener & for myself a statement in its self : No matter what happens , you cannot stop Guano Apes 🙂
When song finished, Sandra says "Obrigada!…Yeah, i remember".
Next up Stude starts of "Money & Milk" & he looks so cool in his hat & with the lighting as it is.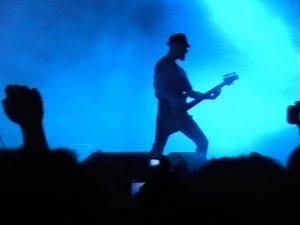 About half way through Money & Milk, its as though the crowd have "woke up". It gets crazy around me & am already considering moving. Sandra says a very nice thing : "Hi guys who came from around the world to stay in the front row for our first concert in 5 years". "Quietly" is as good as it ever was & then Henning starts a riff i don't recognise. Could it be a new song? Sandra says "Lets dance a bit" Ah ! The song finally kicks in & i get it : "Candy Love". This is just fantastic to hear as they've never played this live up till now (For the completists, the guys did partly jam C.L. at a gig in Erlangen back in 2001) Damn i just LOVE this! I've wanted to hear live for years & now its made it. Not only that, but it seriously rocks…in a cool disco way 🙂 Also cool how in the middle Sandra jams a little "Born to be alive" (Patrick Hernandez ) & the crowd sings it back. I wonder if this song could become the new "Move a little closer" of the set?
Sandra looks down to the front row & says "I like those T-shirts. We don't have them. We don't sell them !" She is referring to the original "Guano Maniacs" shirts that people have had since years back.
Next another song i don't realise what it is. Now this IS a surprise as its one of Sandras solo songs "Do it Again". I confess i find it really strange that they're playing this. But it does come over quite well.
During "OYE" the place just goes off. Its obvious a lot of these drunk students only know the GA hit songs. I have trouble keeping hold of the camcorder,let a lone trying to actually film! Decide i'll move at end of song. But as they start "Pretty in Scarlet" decide i'll stay one more as this shouldn't be too rough. So i make my way to the barrier to go film down there & security wont let me in! I've got the correct pass but seems this goon doesn't know. Only thing for it is to work my way through the crowd to the backstage entrance on the opposite side & go try film onstage.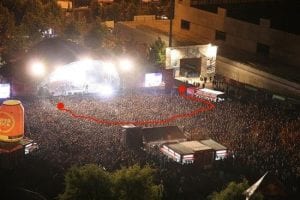 It takes me 2 songs to get through the crowd & would you believe it,the security wouldn't let me go through.(Even though the same guy was there earlier when i went back a couple of times!) I'm getting annoyed now & tell him i want to see head of security. Finally a bit of luck comes my way: as i'm shouting at the guy, along comes the nice young lady who gave me the pass earlier on. She asks whats the problem & i explain. But when she tells him, hes still having none of it! Finally, he gets on radio to call head security. He comes out & talks to the girl & wanders off backstage! Huh? what now? Couple of mins later he's back & gestures me to come in the pit area. He tells the other security guys its ok for me to be here filming.Its at times like this i miss Kirsten. She was always great informing security i can film whole show etc & everything pretty much always ran smoothly. By now, I've missed Stay, Diokahn & most of Dick.
The version of Break The Line tonight just seems weird. Sandra sings the first verse different & kinda flat. The irony of the song is not lost i guess.
I totally love "Allies" when they have the "fake ending" & restart it. That last section rocks so much & its great to see all the freaking out.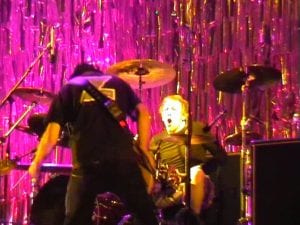 Ah now we REALLY get a new song. Officially hasn't got a name but on setlists it says "Hives Song". Its a rocker & its so obvious to see how much fun the band have playing this.
Scratch the Pitch is followed by another strange choice ; "Sorry". So this makes 3 songs from Sandras solo album. It's not that i dislike the album/songs,its just i find it a bit weird to have them played @ Guano Apes first reunion gig & wonder what the reasoning behind it is.
Next a very interesting track to hear live ; Electric Nights.Towards the end i see that the crowd barrier has moved & for sure it will soon break completely .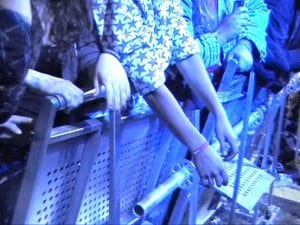 Sure enough, during "Sing that song" i hear screams & the barrier is bust. For a moment the front row is almost horizontal as everyone is pushed forward. This is not good.The security seem to think they can just push back the barrier & people behind it & it obviously doesn't work. There's heated conversations between crowd & security. Its almost as if they (sec) don' realise the danger everyone is in.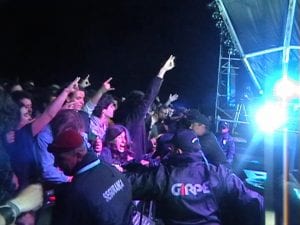 The band rush through B.I.J. & then leave the stage.
A couple of new sections of barrier are brought in & things look a bit safer now. Upon returning, Henning says " Ok this is a small piece to calm you down a little bit. We dont want anybody to get hurt.
Maybe you can sing this song with us". They then do an impromptu instrumental of L.I.A.L. A very wise choice. Afterwards Henning says "its been a pleasure to be back in Portugal. Its been almost 5 years since our last show. Its always been a very warm welcome here in Portugal so we thankyou all" Lords is the last song of the night.
When they bow & say goodbyes Dennis picks up Sandra & its just so touching to see that.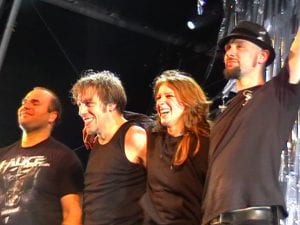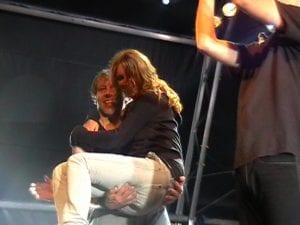 I go find the Maniacs & as expected, everyone's had a rough time. Poor little Pezi seems to have come off the worse & has even lost her camera during the melee. After some minutes Henning comes out front to chat with us asking how everyone is etc. Everyone appreciates that. General feeling is the Apes were great but the security/barrier situation sucked.
So my thoughts on the first reunion show : I don't think we could have asked for any better. The whole band seemed to be having a great time up there. Just seeing the smiles & little gestures between them was moving. The set list was very fresh & i'd say a "moving forward" type set. Playing songs that hadn't been done before was very cool. The new song was a lot of fun & there's still potential there. The only thing i was unsure about was (so many of) Sandras solo songs. But i wonder if those were played more as a way of saying Sorry (no pun intended) for her solo gig getting cancelled in Portugal? Whatever, i think it kinda worked.
My over all feeling i got from the Braga experience was just how great it is to have GA back. I think they realise it also.
Lets see if they can keep it up !