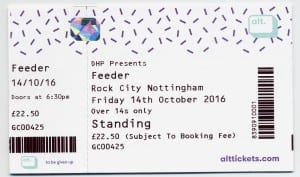 What can i say except my day started pretty shitty when i awoke to a couple of Whatsapp messages. My mate Rob was meant to be driving today but illness put a stop to that. Then there were msgs from a close friend who seemed in a bad place (to say the least). What to do ? After a few attempts to contact,with no replies, i decided : Priorities. I couldn't help the friend so i had to look into if it was possible to go Nottingham or not. With it being so last minute, i couldn't find any hotel which i thought was reasonably priced. (There's no way i'd use a scummy B&B as it's too easy to pick up bugs etc…especially with my immune system being rubbish nowadays). I was all set to write it off when Rachel suggested i go see Virginmarys & come back home. I thought the last train would be earlier than it was. Realising it was an early start for the gig (Kick out 10pm so they can have the club night), it was possible to go ! So off i went ! Another train ticket purchased, Nottingham here i come 🙂
When i got to the venue, i explained to security that i'd been chatting to someone about getting a bar stool (as sometimes i get tired nowadays) & they agreed to let me in a little early, "Just ask at the bar for a stool". On the way in, i saw Alixe still setting up merch so quickly grabbed the new yellow t-shirt ! Yay ! Finally i got a VMs T-shirt 😉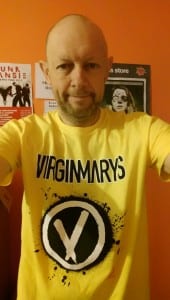 Once upstairs, got the bar stool & set up in my usual position centre of balcony. Jobs a good un !
The place didn't fill up that quickly & i'm sure many people missed the usual killer set from the headliners…erm i mean Virginmarys 😉 They kicked off with " I Wanna Take You Home ". Always a good one to get you in the mood. Next up it's " Halo In Her Silhouette ". The band are on fire,unlike what can be said of the audience. Seems pretty tepid down there & not a single person on the front row seems to be getting into it. Their loss.
Next up it's an old classic (well, it IS !) "Dead Mans Shoes ". Just flys by.
Ally asks the crowd if anyone has seen the band before…maybe opening for Skunk Anansie here ? Pretty much silence from the crowd except for one lonesome voice. He in turn dedicates next song to her…
It's quite fun to see Gareth playing invisible drums sat behind Ally 😉
We then get an oldie but goodie " Running For My Life ". I just love hearing this stuff. I actually find it a little annoying that the guys are really working their assess off up there & the crowd just seems a bit lame 🙁 We're then brought up to the latest album "Divides" & the plough through " Into Dust ". Another 3 or so songs & we're at the finishing line with " Just A Ride ". It's just great & i get the added bonus of a shout out from Ally at the end 🙂 Nice one mate!
Sometime during the show Ally mentioned there will be more *headline*shows later in the year. Whoo Hoo ! Also mentioned the "food donations" from his recent solo show & probably doing it again later in the year. I don't want to misquote, but, i'm also pretty sure he said something about they'll play anywhere "So if you could put us up for the night, that would be cool ". ** Don't take that as gospel ! ** I had hoped to try verify some of the quotes after the gig, but i ran out of time to be sure of catching my train home.
I did have a good old chat with Alixe though. Very pleased to hear these dates were not a "buy on" as often happens nowadays. Proud they're doing things their own way as always 🙂 Must confess, it did seem strange to be leaving Rock City so early, but everything ran smooth & most important thing was i got to see the VMs 🙂
31-10-16 EDIT : Ally has just confirmed about wanting to do gigs for food donations https://www.facebook.com/TheVirginmarysOfficial/videos/1436101046417369/