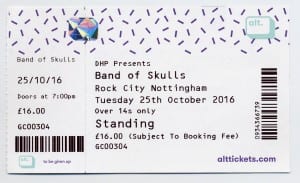 I really like " Bones " & had never seen " Band Of Skulls " before, so thought i'd give it a go. I got totally lucky with my hotel as it only cost me £10 (Yes, a tenner !) Just look at this place for the amazing value i got :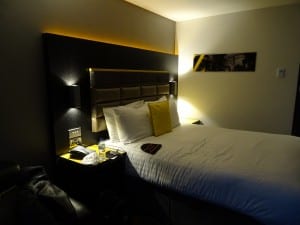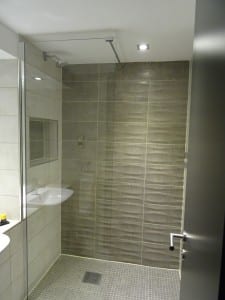 Took a late train to Nottingham as couldn't check in till 3pm. Chilled in my room using the free wifi. Found out a friend, Diletta, was also here for the gig. She's a massive fan of Bones 😉 Unfortunately they hadn't sold enough tickets to open the balcony. So myself & another couple went to my 2nd favourite position, under the stairs ( It's raised here)
Place was slow to fill up, but eventually there were not many spaces on the main floor.
I'd imagine Bones were new to most of the crowd. I'd previously seen them open for Skunk Anansie & also PVRIS, so knew what to expect. To start off there wasn't much "movement" amongst the audience, but, they were gradually turned onto the band as their set progressed. I made a few videos 😉
Their short set ( 30mins? ) went by very quickly & they finished with the one two of " Girls Can't Play Guitar " (preceded by telling the crowd about the infamous guy in Camden who said the immortal line "Girls Can't Play Guitar") then final song " Pretty Waste ".
Band Of Skulls i really don't know much about. First thing i noticed tonight was how their back drop of 3 ecclesiastical looking windows reminded me of a similar thing " The Mission " did back in the '80s ! Move the outside ones closer to the centre & there you have it . By now the main floor was considerably more busy.
They kick off with " In Love By Default " & then it seems to be the same setlist most places on this tour with "Light Of The Morning" , " Himalayan" & " Bodies" following.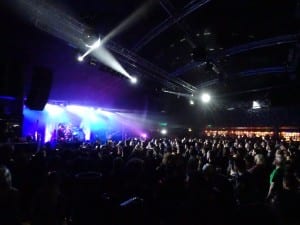 Sometime pretty early on, i was filming a song & got a tap on my shoulder. It was Diletta coming up to see me. She didn't realise this was the "disabled area" & the chap behind me who i'd been chatting to kinda of tried to make her move. Once he realised we knew each other, he was fine. ( Afterwards when we talked about that brief moment, Diletta said " It was like he was your personal security !". Funny & good point 😉 )
Before "Patterns" , Russell mentions how they love playing in Nottingham 😉 This song really starts to get the crowd going during the singback section. They then jump forward to present day with the song "So Good" from the most recent album " By Default ". Very smooth how they merged from one song to the next.
I knew something interesting would be coming as Matt, the drummer, was given a guitar. So had to film this track. Turned out to be an old song which had been used a few years back on a tv show (A little digging & i found a bunch of their songs were used on tv shows & movie soundtracks over the years). There were some great little vocal harmonies going on between Russell & Emma
The rest of the night it was more high energy songs & i've got to say, i really enjoyed the night. The couple near me left early. I assume to beat the swathes of people leaving at once ( She needed a stick, so wise choice i reckon) They finished with " Asleep At the Wheel "
Afterwards, briefly had a chap with Diletta & then i went back to my hotel. Oh yeah, before hotel i went in multi storey next door & scanned an app where each time you park there, after 6 scans i think, you get free parking session. Whatcha mean….my car wasn't there ?
The following morning, before checking out of my fantastic hotel, there was one last piece to be completed here : " The Grab & Go " breakfast ! At no extra charge, they have pastries, muffins, croisants, coffee, juice etc. Would love to stay here again….at the right price 😉