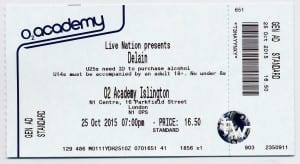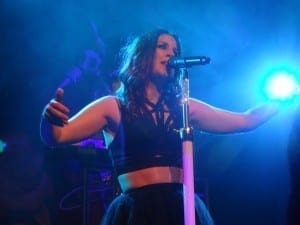 My old mate Ady was doing a mini "Delain roadtrip", seeing shows in Birmingham, Manchester & London, so it made sense for him to join me on the London date. Once in London, Ady popped off to visit FOPP, whilst i went straight to the venue. Got there about 4ish & was surprised how many people were already queued up ! Supposedly, about 30 were doing the VIP meet n greet, so the O2 priority entrance was very important for me on this one. (Incidentally, O2 customers *should* be able to take up to 3 guests with them, at  **ALL** O2 venues. However, at this venue, despite being contacted by AMG about it, they still only allow +1 guest !! There really needs to be something in writing about the amount of guests O2 customers can take in….& i'm sure that AMG will be contacting Islington Academy again soon 😉 ). I didn't manage to help Jim + Diana getting in, but my +1 ended up being a nice lass called Olga who i met in the queue 🙂 (Again, so ironic that they didn't even check anyone's phones to confirm they were on O2 !!)
Well, luckily, we managed to get on second row, so i was very happy with that ! First up it was  "Courtesans". I'd previously seen them in a small club in Stamford, so was nice to see them on a bigger stage. I enjoyed their set. It was short but sweet & i'm sure they made an impression on many in there tonight. I'm also thinking they might have confused some people haha 🙂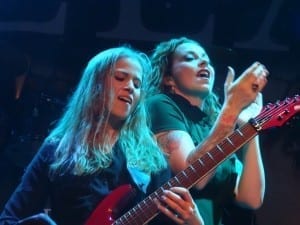 Next it was "The Gentle Storm". I had never seen them before & they were bloody great. They seemed genuinely surprised by the crowds reaction, which was well deserved. I'd like to see them again sometime.
So to the main act, Delain. The show was totally sold out & packed silly. I'm so pleased i put the effort in to secure my position on the 2nd row 😉 They kicked off with " Go Away". Apparently, they had decided to make big changes to the set list, so, anyone who'd seen the other UK dates, was in for a treat ! I was surprised "Get The Devil Out Of Me" appeared so early in the set. We got a bunch of classic songs & what really struck me about tonights performance was how everything really flowed. I think making Merel a full time member was an inspired move.They all seem to gel so well & it's great seeing smiles all around. You could tell it wasn't just us, the audience, really enjoying things 🙂 I don't know if some of the "moves" were choreographed or if they have just become part of the show after touring a while, but, it just worked so well. Oh yeah, Charlotte seems to totally ooze confidence. She seemed to really get off on the fact that the audience followed her lead…& maybe even got a bit carried away with the audience chants of "Hey ! Hey! Hey! " at various points in the show.But hey, you've worked hard for it, so enjoy it !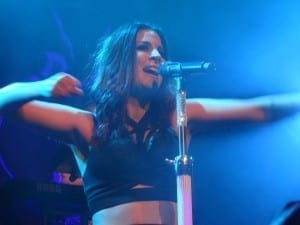 I felt like the band had stepped up a level tonight.We got one new song " Turn The Lights Out " which will be on the album coming out in 2016. It sounded fine 🙂
Two or three more songs & they finished the main set with a stonking version of "Not Enough". But obviously, we're not gonna let them finish there! Loads of screams & clapping then the intro to "Mother Machine" starts up. This is a great encore song as after the "intro" the main song hits like a battering ram. Of course, the show finishes with the classic "We Are The Others ", a beautiful song.
So all in all, a great nights entertainment. These are the kind of nights i live for. As i said, i think Delain have stepped up a notch & tonight was certainly the best I've seen them (a couple of mates also agreed about that). 2016 will be an interesting year for them & i look forward to the next album/tour.