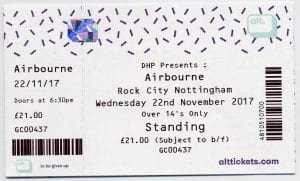 So the morning after that "wonderful" (sarcasm) experience in London, i took an early train back up to my spiritual home of rock n roll; namely, Rock City, Nottingham. Once there, checked into my usual hotel & chilled for a while. I briefly tried to reflect on last night, but couldn't as it was such a shitty experience ! So draw a line under last night & move on. At least today, even before it starts, i know the Airboure always put on a good show, so i know it will lift my spirits 🙂 It's a sold out show, so i'm sure it's gonna be a great night.
Everything ran smooth with regards to entry & getting a seat on the balcony. The way it should always be 😉
I'd never heard of the opening act "Wild". Didn't really do a great lot for me tbh.
I was quite interested to see what "Phil Campbell & The Bastard Sons" would be like. It was everything i was expecting 😉 It's quite amazing to see the "change of look" of Phil Campbell since he joined Motorhead back in the 80s. I'm sure Lemmy would be proud of the impression he had on him over the years.
They played a pretty short set tonight & of course, it had to include a couple of Motorhead songs, namely "Born to Raise Hell" & finished with "Ace Of Spades". Whilst it was a decent set, i doubt i'd go see them headline anywhere.
So now the real fun starts….Airbourne. I've never seen a bad show by them & you can always rely on Joel to put on a show & do some "silly" things along the way (Will never forget when he climbed up the rigging to the top at Download festival 😉 )
There's a short intro tape before they hit the stage & show us they're "Ready To Rock" 😉 Next up it's "I'm Going To Hell For This"
At the end of the song, Joel shows his appreciation for Rock city, by saying " Nottingham Rock City ! No matter where we go in the world, THIS is the best gig ever ! ". That's something i'd agree with 🙂
We then get a song from their debut album "Too Much, Too Young, Too Fast". It's kind hard to believe that it was released over 10 years ago ! ( What a great debut "Running Wild" was ! They set the bar high & have continued to release more albums of the same quality over the years)
Next, it's a couple of songs from the last album they released ("Breakin' Outta Hell") "Down On You" & "Rivalry". Before "Rivaly" Joel tells us all : "I know it's a midweek show & I know you're going to work, or university tomorrow…but you know what? There is no fuckin tomorrow ! You're LIVIN RIGHT NOW ! You could always go to work with a hangover or you might not show up. Fuck the boss man "!
As an aside,"Breakin Otta Hell" was released back in 2016 & they've been touring it for about 18months. They certainly do work hard to entertain the masses on a global scale.
During "Girls In Black", Joel does his usual thing of coming out into the audience, carrying on playing & culminating with him smashing the can of lager on his head until it squirts all over everyone. Great showmanship !
We next get "Bottom Of The Well", closely followed by "Breakin Out Of hell". Both full on typical rock n roll songs.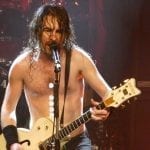 Before "It's All For Rock N Roll" Joel says that Motorhead will live forever. As i'm writing this, it's just been announced that Fast Eddie Clark has died. So that means all of the "Classic" Motorhead members have left this earth. Let's hope they're up there jamming together. Joel dedicates the song to Lemmy & also Malcolm Young. During the song, a flight case is wheeled onto the stage & on the side of it it says "Lemmys Bar". Joel then pours out 4 Lemmys (JD & coke) for the band members. He also shares his with the front row of the crowd.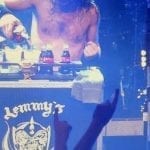 The main set finishes with " Stand Up For Rock N Roll". Then over the PA we hear the sound of an aeroplane or a "Bomber" a la Motorhead 😉 This is accompanied by an air raid siren being wound on the stage. I also notice a guy down in the press pit who's holding up a drone & waving it over the crowd. I assume he's got a GoPro attached to it & is filming it. (Interesting & different use for a Drone eh?) After the siren finishes, the band are back on stage & proceed with "Live It Up". During the song Joel throws some beers into the crowd. A mate had said when he saw them in London, he couldn't work it out he he pretty much threw them with nothing coming out during flight.I suppose there must be a knack to it. But tonight, pretty much every one he threw out spilled a bit ! Maybe he was a little over excited at being in Nottingham & it being the last night of the UK tour ? 😉
The night ends with a rousing version of "Runnin Wild".
Tonight has been fantastic. Really enjoyed the show. Also, most certainly made up after the shitty time in London 😉
The following day, i travelled on to Birmingham to see PVRIS. For this show i'd chose to have the M&G ticket option.I'd had a plan to do something a bit unique & special for my niece as she couldn't be there. Unfortunately, i'd not had any email to say what time the M&G would be happening etc. I always like to have full info about the schedules etc, so this one i didn't feel so comfortable about it. After the shitty experience in London a couple of days back, i really wondered how this one would go. In the end, i didn't need to worry about it as the day/night in Brum just got better & better……