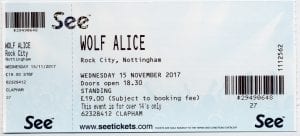 There was a little drizzle as i walked to the train station. Nothing too much. The trains ran fine & was soon at Nottingham. First stop was Argos as needed to collect a couple of things i couldn't get in Boston. Then checked into Roomzzz hotel. "You've been here before haven't you? So i don't need to go over everything with you again?" She was correct 🙂 I got a nice room, almost at end of corridor (The best place as you won't get people walking by late at night 😉 ) I relaxed for a while, then made my way into town to get food.(Yeah, my usual place lol). Walking back to hotel,as i went past Rock City, i saw a chap queuing who i recognized, so stopped & had a catch up with him. (The funny thing about us knowing each other was that i often saw him at various gigs. I think it was at Wolf Alice Leeds 3-16 that we started chatting. I said something like "Ive seen you at a few gigs & recognise your face". Coulda knocked me down with a feather when he said he was also from Boston! Small world !) After our chat, i went back to the hotel to relax a bit more. As is the usual preocedure nowadys, i went back to RC about 15 mins before doors, talked with security about having a prearranged seat in balcony, then whilst waiting, had another chat with Nige B. Soon got in, at my fave spot on balcony.
First act tonight were "Superfood". Can't say they did anything for me. Second act was a band from New York, called "Sunflower Bean". They were pretty decent. I enjoyed their set. They also got a good reaction from the crowd. Apparently, they'll be coming back to Nottingham soon & will be playing The Rescue Rooms. Need to check out their album.
There was a pretty quick turnaround before Wolf Alice came on. I noticed the floor was absolutely rammed. The lights went down & Wolf Alice slowly walked onto the stage. From the off, the crowd was very loud. Pretty sure tonights set list was the same as in Amsterdam. Second song in " Yk Foo " really livened things up. Already, there were a couple of mosh pits down there. When they played the familiar opening riff of " You're A Germ", the room just goes crazy! It went to another level. You could also see that Ellie was really enjoying herself. THIS is the Wolf Alice i've come to love. "You're Loves Whore" is fantastic.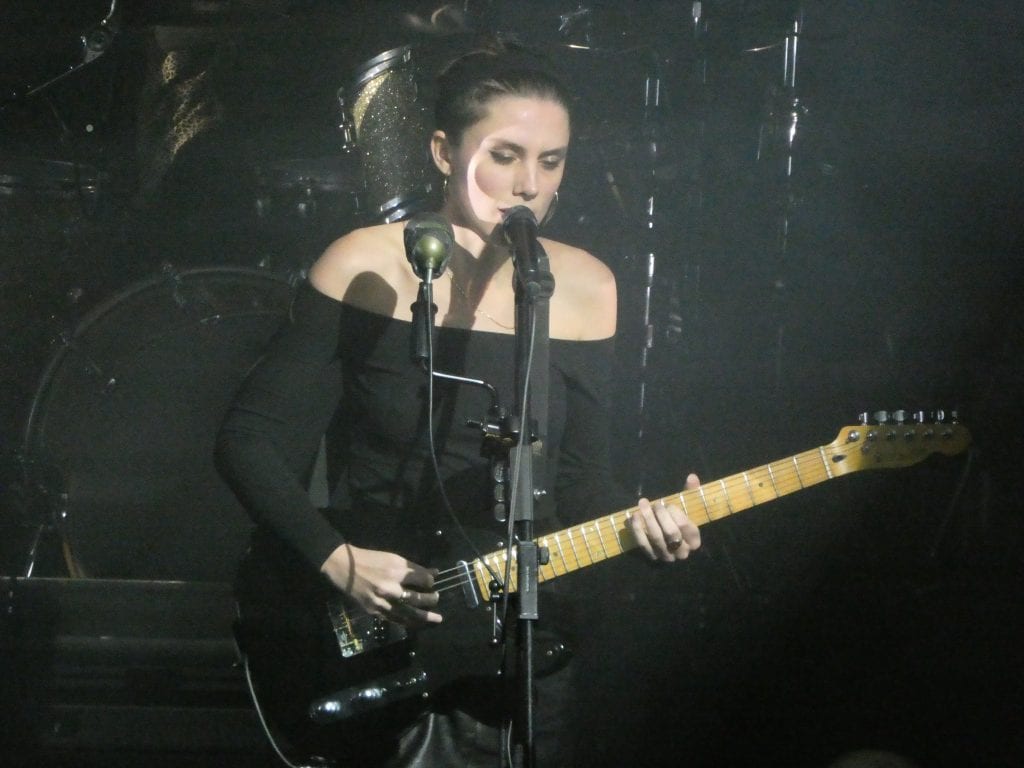 The more i think about it, i realise that the Melkweg show was nowhere near as good as Rock City. It had been bugging me that i felt something was "missing" at Melkweg but couldn't put my finger on it. I now realized the thing that was missing, was the great Rock City crowd 😉 Don't get me wrong, Melkweg was great night out, but Rock City was another level up 🙂 Tonight's setlist was similar to the other shows i've seen on this tour. I think they just made slight changes as to where the songs were in the set. The night ended with the double wammy of "Blush" & "Giant Peach".