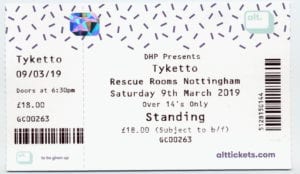 I've started taking later trains to Nottingham, so today I left good old Bostonia at 14.50. Journey was ok, no hold ups. Once in Nottingham, I went strait to Roomzzz. They know me there now as I stay so often. Even ask me which gig I'm going too 🙂 Basically stayed in hotel till 15mins before doors. Walked round to the Rescue Rooms & there was a fair sized queue. Spoke with a couple of security guys about needing a chair & got in early. Originally the lass put a seat over on the right side, looking over the stage. I don't like being there, so got it moved to centre of the balcony. The prime spot position.
First band on tonight were "Kane'd". Pretty sure I've seen them before, maybe at Camden Rocks festival, but for sure saw them opening for "Romeos Daughter" at Yardbirds, Grimsby back in 2014. They've certainly improved since then.
The lads in the band hit the stage first. Started jamming away, then the lasses came on. Everyone on stage gave it their all & I'm sure they won over a few of the crowd. Their set list tonight was :
Wasted, Show Me Your Skeleton,3-2-1, Hey, Hello, I Won't Bite, I'll Bring You Home, Reckless, Invidia, Covered in Roses, La di da (From setlist FM)
So to the main attraction : TYKETTO ! Over the years I think I've seen them about 10 times. Mostly at either the Rescue Rooms or Rock City. There's always one thing that's guaranteed with a Tykes show ; A quality night out ! Tonight's show is SOLD OUT, so I'm sure the audience will make themselves heard.
The band kick off with " Inherit the Wind " & next play " Meet Me in the Night ". Great stuff 🙂
Danny tells us that they're recording tonight (same with the rest of the UK tour) which brings loud applause from the ever faithful crowd. Apologies for the darkness of the video clips, I just wasn't on my game that night.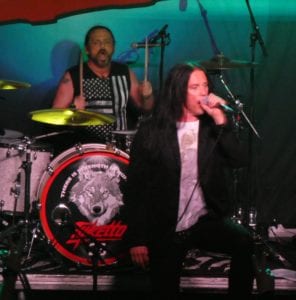 Danny then tells us the story about being dropped from the label (Geffen?) before "Strength In Numbers" could be released & also that "Music For Nations" was the best label they ever signed to. (Though sadly, MFN is no longer around)
After "Catch My Fall" it's another classic "End Of The Summer Days".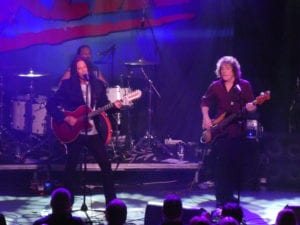 At least we don't have to Wait forever for the next song (Yeah, I know, not a good pun)
After that, we get a different version of "Wings". The girls from Kane'd come onstage to give vocal support 🙂 Good to see all that hair on stage shaking around…& I'm not just talking about Danny 😉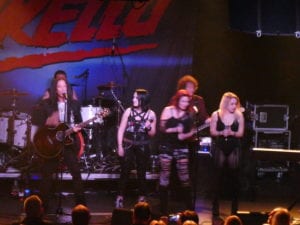 Next up we get "Ain't That Love", closley followed by "Write Your Name in the Sky"
Soon enough we're getting absolute classic Tyketto to finish the main set : "Rescue Me", "Strength in Numbers", "Forever  Young". What a way to finish the show ! Bloody loved it. But wait, there's more to come 🙂
The encore consisted of "The Last Sunset", "Reach" & the superb "Standing Alone".
Danny said he was struggling, so he expected the crowd would help him out…and they did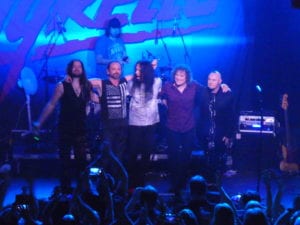 All in all a great night out. These shows are what I live for. I didn't hang around afterwards because I was feeling quite tired. It's VERY useful that Roomzzz is just around the corner.
Tyketto set list tonight was : Inherit the Wind, Meet Me in the Night, Catch My Fall, The End of the Summer Days ,Wait Forever,Wings ,Ain't That Love, Write Your Name in the Sky, Why Do You Cry?, Rescue Me & , Standing Alone.