I had a last minute (as in they phoned the day before!) consultation with my Oncologist before setting off for Nottingham. Had been awaiting results of my last M.R.I. As expected, the tumor had once again grown. From now on i'll be having MRIs every two months.
I'd been looking forward to this gig but was really unsure how i'd cope, as previously when they played the Basement i'd always be down the front. With a low stage, viewing from the back would be rubbish. So i thought i'd try it from down on the barrier. Didn't even bother asking for a stool.
Train journey was fine, checked into "Roomzz", then went for some food. Afterwards, back to the hotel to chill. Was meant to be meeting Danny before the gig, but it fell through due to the interviews they were doing. A funny thing before going in, i had someone ask me if i worked at Rock City. Been a while since that happened lol
Once inside, i went front left & kinda hung onto the barrier. After a while, my old mate Nigel Natrass came over & we had a good catch up. Hadn't seen him in ages. More regular faces turned up, namely Rachel, Andy, Jill & then Fi Stimpson.
The support act were a local band, " Cut The Heroics ". Apparently it was a last minute thing they got the gig. They were ok, but tbh i was just waiting for the headliners.
I noticed they had a video camera at the back of the room. Turns out they were gonna stream it live. (Thought to myself " I wonder how much of the band will that show ?)
Eventually the VMs came on kicking off with old classics "Dead Man's Shoes" , "Halo in Her Silhouette" & "Portrait of Red". The new guy, Ross, had some sound issues to start off. This was first time i'd seen him with the VMs & i was very impressed with his performance. Pretty damn tight & he coped with said sound issues very well.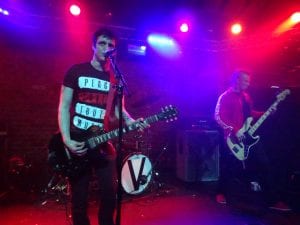 Whenever they play "I Wanna Take You Home", i always think of a certain young lady who i'd like to…haha no clues 🙂
Next we get the first new song which was recently uploaded to VMs page. " Sweet Loretta " is the first of 3 new songs tonight. It's very powerful in the live environment. It has that distinctive Virginmarys sound.
More classic stuff follows "For You My Love" , "Running for My Life" & " Into Dust ". We're about half way through the show now & everything is just flowing on stage. My VMs friends near me all have huge smiles on their faces…well, that's not when they're singing all the words at the top of their voices 😉 The room has come alive.
Next up it's "Falling Down " Just look at that sweat pooring off Ally 😉
Nowadays i find that listening to "Moths to a Flame" always brings tears to my eyes. I can so relate to this song after my shitty 2016. I'm still holding on…
We then get another new song " Sitting Ducks ". From my position, i could see it listed on the setlist clearly, but, for whatever reason, i keep thinking "Shitting Ducks" ! Yeah, i'm strange i know lol. Another new song that has the typical VMs spirit to it. We're then transported " Off To Another Land" . Again,classic stuff.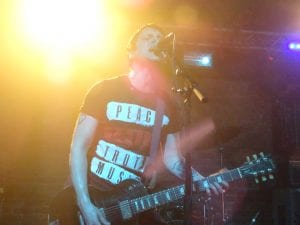 The last new song of the night was " Through The Sky ". It has a very "bouncy" beginning. A nice song with a great part for a sing a long towards the end. The band are bollock tight with the finish. Spot on.
The adrenaline rush continues with a frantic version of "Just a Ride " Then the main set finishes with the immense sounding "Ends Don't Mend".
They encore with "Motherless Land" & "Bang Bang Bang".
A good night for sure. I'm quite proud of myself for making it through the gig without dropping back. But it also made me realise, i cannot really do that again. As the phrase goes "My mind says yes,but my body says no" 😉
A couple of other things about the night : Ally said they will record more songs & release eps before a full on album. There was an incident on the right side of crowd where some dickhead was getting over rough. Security eventually intervened. (From what i read online late, the bloke was not only kicked out,but, the police were involved also). Oh yeah, totally forgot i met another lad who i randomly met at gigs a few years back , James Chamberlain. Nice to catch up mate !
Finally, because they had the crappy disco/club night on afterwards, security were really pushing to clear everyone out. So it was all a bit rushed for anyone who wanted to quickly meet the guys from the band. I was stood with Rachel, waiting for Andy & Jill when an old guy asked Rachel if i was her husband ! So funny 🙂 Upon leaving the venue, i couldn't believe how many kids were queued up to get in ! Said my goodbyes to my friends & was soon back at my hotel…for yet another sleepless night. Roll on The Borderline gig 😉