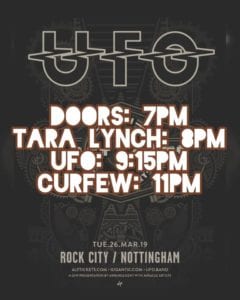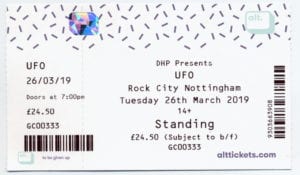 This one really made a change. For once I wasn't going on the train ! My mate Andy T, drove us there. We set off around 2pm, weather looked a bit dark, but as we travelled further away from Bostonia, it got brighter. Shoulda took my sunnys with me. When we got to Nottingham, we walked from the station into town.(Via a slight diversion called FOPP) Then had lunch at The Roebuck. Surprised it wasn't very busy. Next stop was Rock City to see if there was much of a queue or not. There was a small one. Also, they'd put barriers out the front, something that I've not seen them do before.
We'd still got an hour plus to kill, so went to Premier Inn & hung there for a while. (I had booked a room as it was so cheap)
About 15mins before doors, we went back to RC. Had to "jump the queue" so i could get a seat. Tonight, Andy was my "helper", so a free ticket for him 😉 Managed to get a seat in my favourite spot (Thanks Kev) then the rest of the crowd came in. I Was surprised that it didn't get very busy. But soon enough it did look a lot busier, which was good to see.
The opening act was "Tara Lynch". Once again, they didn't really impress me. As they were playing, I noticed the drummer was someone I thought I'd seen before. Sure enough, it was who I thought it was ; Joe Lazarus. Even he couldn't "save" Tara Lynch band…that's just my opinion.
By the time UFO hit the stage, Rock City has filled up a lot more. They amble on to the stage & start with a couple of old classics; "Mother Mary" and one of my faves "We Belong To The Night"
Instantly I notice Phil Mogg is in fine fettle tonight. As he's now getting on a bit with age, it surprises me that he sings really well. Good on ya Mr Mogg ! ( I just wish that a couple of other oldie vocalists would wake up & realise they're not as good as they used to be. Classic example : David Coverdale. There's more guitar solos than him singing 😉 )
Tonight they also play "Venus". According to internet chatter, this was the only time they played it on this tour. Lucky I caught it ;
It's a cool song. Next they play "Lights Out". It's another song what they're famous for. Phil tells us that they first played it at Rock City in 1982. Either someone gave Phil a wrong setlist or he had trouble reading it, he introduces "Cherry", but they play "Baby Blue" !! hahah. He then says "I'm so sorry. Someone gave me the wrong setlist. This is called "Burn Your House Down". What do they do? They play "Only You Can Rock Me" haha. He has a bit of a laugh about it 🙂 The  guitarist steps up to the microphone & says " That was "Burn Your House Down". I'm not keeping up with all these shenanigans !! Then they finally play "Burn Your House Down".
We finally get "Cherry"
Next up is one of my all time faves ; "Love To Love". Phil says there's someone in the audience to dedicate it too. "Where is she ? Oh she's in the toilet !" Sheer class !
It's getting towards the end of the show now. What better way to finish with "Makin' Moves" & "Too Hot To Handle". Phil has a little joke about Andy being 52…but he said "I do apologise to him, it was a gross exaggeration & mischief making" . Wtf ? Erm, I'm lost now ! He then introduces "Too Hot To Handle". I dunno if Phil had been back on the sauce again or what. I'm not remembering it all, maybe i got it wrong?
They appear to finish with the long version of "Rock Bottom". But surely, that can't be the end ? Of course not ! They encore with a quick couple of songs, namely "Doctor Doctor" & "Shoot Shoot".
All in all, this has been a fantastic night out (Even though there was confusion from Phil, which in turn confused me haha)
These are the nights that I live for.
P.S. Didn't take any photos tonight as I was mostly filming it & more importantly getting into the gig 🙂