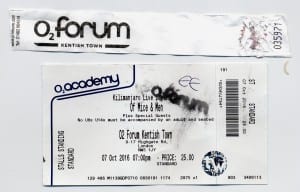 Today, the first thing on my mind was PANTS ! Whilst i'd brought a spare pair of trousers (which unfortunately, had a rip in the crotch area) i didn't have spare pants. So that's todays mission. Didn't have enough time to check out the shops in Bristol though. Our train left at 12.30. Once in London, we needed to meet Rob so we could drop off our bags at his place. I think, due to lack of sleep, i just wasn't on my game with finding where Rob works…even though we were nearby a few days earlier ! All worked out in the end. Once in Stratford bought the pants! After going commando in trousers with a rip in an awkward place, it was great to get fresh new ones hahaha. The day was going so fast. After Tess had shaved me (head!) we were soon off to meet Rob at the Forum. Erm, i mean the pub nearby 😉
Today was the first time i used the "companion ticket" offer for me & Tess. It worked well. Rob came to this gig because Kristina decided to zip off to Stockholm to see Amaranthe….as you do ! When security let us in, Rob winged it & managed to get in same time as us 😉 We had a good spot/view,just above the main floor.
Whilst i have got the OM&M album "Restoring Force (Full Circle), i don't really know much about them. So this gig was more of a case of slotting in between Royal Republic & The Mission. One things for sure, i can't be accused of just liking Metal or whatever ! But that's the way i've always thought. If it's got a good beat,interesting lyrics or most importantly it touches me & makes me listen, i don't give a damn about the genre. So this gig is going to be all new & fresh to me.
Being totally honest, sometimes i find support acts a pain to watch. So many seem to regurgitate the same stuff. Both " Hands Like Houses " & " Crown The Empire " don't do anything much for me. Don't get me wrong, the kids love them & i'm sure both bands will progress over time. But i've seen it all before & it left me feeling "flat".
Another thing, whilst looking at the mosh pits, i couldn't help but think how many of this crowd are actually listening or watching the bands?
OM&M hit the stage full on with "Pain". The crowd straight away becomes a total mess with the mosh pits. It's not all that often i've seen a crowd go for it THIS much on a first song. It's all so intense. The only downside is I think the sound is pretty poor, especially the vocal mix.
Next up is a song more familiar to me "Feels like Forever" (off the album "Restoring Force:Full Circle") It's one of my fave OM&M songs as is the following track "Would You Still Be There?". I think i prefer these tracks as there's more singing & less "shouting". The same goes for later song "Never Giving Up".
Going back to the earlier subject of mosh pits, there was something i noticed from my vantage point which a lot of people wouldn't have been aware of : Security stand both sides of venue on the stairs,looking over the crowd. They were very quick & proficient at spotting someone who totally went down. Respect to them for getting in there & taking the bloke out.
When the band came back for the encore, Austin got the crowd to squat down for the build up to " You're Not Alone". How many acts now must have copied that move that Slipknot "invented" ? (Well, i assume it was Slipknot as that was first time i experienced it a few years ago)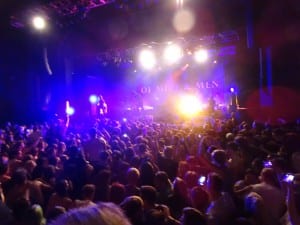 All in all, not too bad a night. We went for a quick drink before heading back to Robs 😉
P.S. I later read online that after attempting to play the last couple of UK dates in Portsmouth & Cardiff the band cancelled the rest of the European tour as Austins health is not good. https://www.instagram.com/p/BLbtme2BSgd/
Wishing him all the best for a quick recovery.