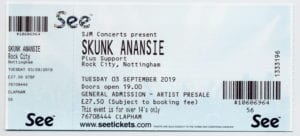 I consider that Rock City is my "local" venue. Either going by train or car, it's now my favourite venue. This one my mate Andy drove us there. Parked up at multi-storey, next to train station (But I'd forgot to take Blue Badge-Doh! ) . We caught a tram to the RCH stop. Went to rock city. Once in, saw skunks manager & he gave Andy a pass. Then went to The Gooseberry bush but it was closed. We met Jim there, but as it was closed, Jim walked to the Roebuck whilst me & Andy took a tram there. Pretty much arrived about same time. (Nomis & his wife were staying at the Premier Inn. Think I might have forgot to tell him the Gooseberry Bush was closed. Eventually, they also came to the Roebuk). After food, we went back to Rock City & got in via the back doors. Bumped into Cass & I said "I've been to this venue a lot of times, but never been backstage". Cass then took us back stage. I was really surprised about how SMALL it was ! We passed catering (damn it smelt good!) then round a corner, ended up side stage. (Jim didn't see that as was gassing with Erika 😉 ). We ended up staying in the venue as it was getting closer for doors to open. I got a seat. Went to my usual position 🙂  Again, the support act didn't do much that I licked, but they appreciated being invited to support the mighty Skunk Anansie. It's soon time for what we all came for : SKUNK ANANSIE, once again, headlining Rock City ! I wont write much about the show, but I'd say it's right up there with the other best gigs that Skunk Anansie. There's just something about when they play there, it seems a notch above other gigs.
Here are some video clips I recorded at Rock City :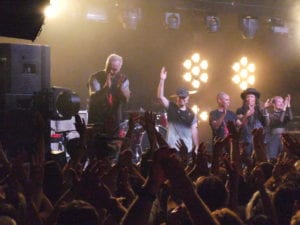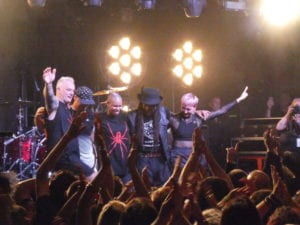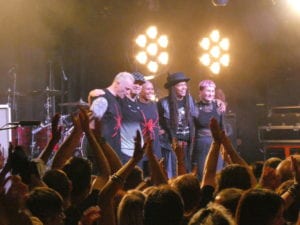 After the gig finished, there was an after show. It was in the room that used to called "The Rig". I've got a story about going to the Rig….& getting my money back ! A few of us went in what's now called "The Black Cherry Lounge" (Or whatever the shitty place is called now) Most of the band turned up, photos were took, drinks were drunk.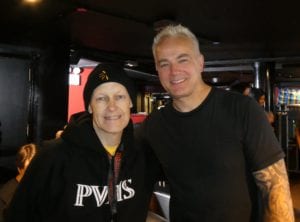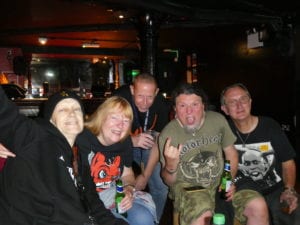 Then we all said our goodbyes. Myself & Andy went back to the train station, where his car was parked. Then a nice drive home 🙂
P.S. During the tour I was enjoying it so much (& feeling well) I decided to add Newcastle at last minute 😉