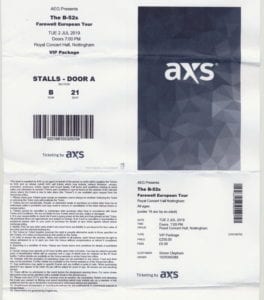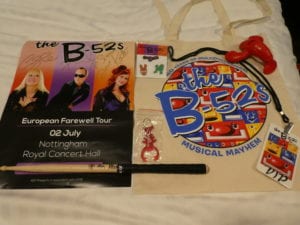 I remember when I was a kid, when I saw the B52s on TV, I thought "They're quite unique". So went  & bought a couple of picture discs by them. I got "Rock Lobster" & "Planet Claire".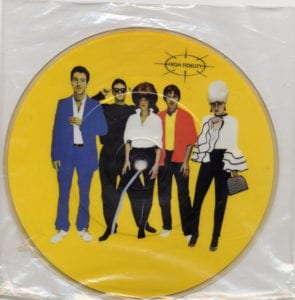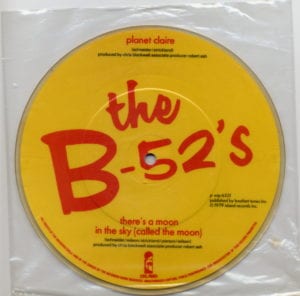 My age would be around 13. Being so young, the chances of me seeing them live were pretty slim 😉 Move forward to 2019 & I got the chance to see them. I just HAD TO DO THE M&G experience. It was the best £250 I've spent on a ticket ever. Took a train from Boston to Nottingham, booked a hotel near the RCH & was all set to go. Must admit, as I'd not seen them before, I was wondering how good they'd be 😉 As instructed, I went to the box office (or a people say in the states "Will call") to collect my VIP Laminate pass. I then went back to my hotel to relax for a while. When I went back to RCH, they'd just opened the doors. Went straight in, got my seat, looked around at the almost empty hall, thought to myself " I think this is going to be an interesting night" 🙂
The support band, "Trapdoor Social", to start off, I just didn't get them. But when they were joined by people who played Trumpets, Trombones etc, they seemed to go to another level. (Apparently those guys were from Leeds). As they worked through their set, I liked them more & more. I must confess, sometimes I don't listen to support bands, but, tonight I thought "Trapdoor Social" sounded great !
So onto what we're all come for; The B52s ! They played what I expected they would play. The people in the stalls mostly stood up & had a good dance around. The atmosphere in there was one of absolute FUN. I took a few photos & attempted to film a couple of songs, but couldn't help getting into the groove. Here's a few of the photos & video clips I took on the night :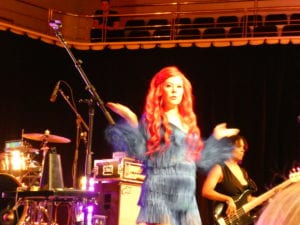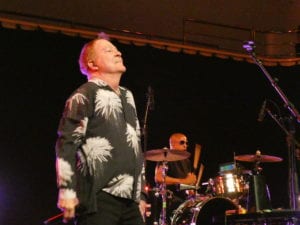 Before "Funlpex" Fred told some  " Could you put your cell phone down please". I thought that was quite a strange thing as there were a lot of people who were using there mobile phones. (Hell, on the row in front of me, a couple were taking selfies, with the band in the background ! ) But so be it….
As I previously said, I didn't take many photos or video clips, as I was living in the moment .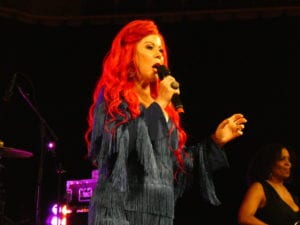 Towards the end of the show they played a couple of the old classics, namely "Love Shack"
And on the encore, the 1st song they played was "Planet Claire" , followed by " 6060-842″ . Of course, they had to finish with "Rock Lobster"
They said their thanks to the crowd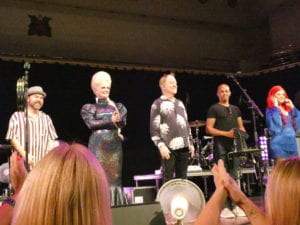 then walked off the stage to massive applause What a great night this was ! But it's not over yet for some of us 😉 Those doing the M&G had been told to wait at the merchandise stand & "Hope" would take us all backstage for the M&G. I mean, as if this night couldn't get better : I'm going to meet the band ! ( To think three  years ago I was diagnosed with brain tumors & given two years to live & I'm still here is amazing.) During the M&G, we all stood in line to meet & briefly chat with the band members. Hope would take photos of everyone. When it was my turn, I told them that many years ago I bought the picture discs, & I thought I wouldn't get a chance to see them. When I said that, Fred gave me his drum stick which he had been hitting the cowbell with. Great stuff.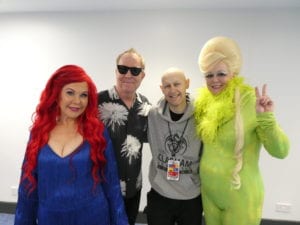 As we all leave, we get a "tote bag" full of goodies. I've had a few of the "tote bags", but, nothing can compare to this one : There's a signed photograf , some pins (as they say in USA). Badges to you & me ;-), a key ring which could be used as a bottle opener. But the main thing, in my opinion, is the red squishy (rock) lobster 🙂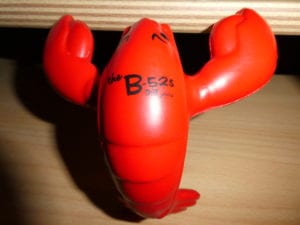 This was a fantastic experience. Absolutely loved it all. Had a quick walk to my hotel & when there, I think I fell asleep very quickly (Even though I was still buzzing after the whole experience.
P.S. My friend Nigel M. was in the balcony & he got a shot which included me ( In the middle, two rows back, grey hoodie, camera in hand )