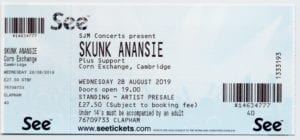 I've been to Cambridge a few times over the years. Been to the venues "Corn Exchange", "The Junction" & even "The Portland Arms". So already could remember the routes around Cambridge before i went. I think my train was a bit late & Jim was already there. Where did we meet up? No prizes : a pub/bar! It was also close to the hotel I'd booked, The Ibis. Once we checked in made our way to the Corn Exchange. Along the way, we stopped at The Regal…yes, you guessed it correctly; A Wetherspoons ! Knock the Wethers as much as you like, but they're always cheap for food & beers. Once we've finished, it's a short walk to the Corn Exchange. (Oh something I must say about the Corn Exchange. Last time I was there was to see SAXON. But not only that, I had bought a Laminate Pass which allowed getting in early & M&G. Could use it at ANY venue where they headlined (Only went to Cambridge due to health issues). It also included a free ticket. That was the only thing I was disappointed about ; they gave me a ticket which was about half way back in the balcony ! I would have thought it could at least be front row of balcony. Either way, I didn't take that seat, as I found a mini balcony 😉 I digress…. )
When we got to the venue I said to Jim " The tourist information" used to have posters promoting gigs. When i last got a poster for the gig, the T.I. was opposite the venue. Guess what ? It wasn't there any more! We also bumped into Aliya out front of the venue.
I think we got in through a side door ? Or was it where the support act were unloading their gear? Whatever, we got in early enough to see Skunks sound checking 🙂
We also went to the "mini balcony" as it's a great view from there 😉
I didn't take many photos on this night. It was more about getting into the beats & atmosphere…but of course a few video clips 😉
As always, the start thing with my fave Skunk song; "Charlie Big Potato"
Next it's "Because Of You". Closley followed by "All In The Name Of Pity" & "I Can Dream"
Then it's a classic Skunk song, "Charity"
We then get a more modern song; "My Ugly Boy". A couple of old classics, "Twisted (Everyday Hurts)" You really hear the bass of Cass at the beginning.
Then skin starts to shine with her vocal prowess during "Weak". After "Weak", we get beautiful version of "Cheap Honesty"
After those songs, it's  "Without You". Next up it's "Hedonism", NEW one called "This Means War", "Intellectualise My Blackness", "Yes, It's Fucking Political" & "Tear The Place Up"
Next up it's the first encore of "Secretly" & "What You Do For Love". Then there's the riff from AC/DC, "Highway To Hell", they play it pretty much full. Final song is "The Skank Heads". They finish with the crowd wanting more, soon enough, they're back on stage and the final song is "Little Baby Swastikkka"
The following day, we go our separate ways back home. Have a few hours in Bostonia, then early morning it's up to Leeds !