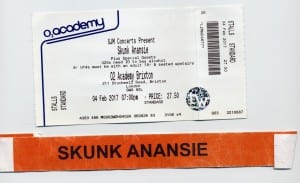 Went down London a day before gig to meet up with some old school Skunk friends. (As ever, i stayed at "Hotel Rob" 😉 ) Had a nice meal at Belgo, Soho. Great to catch up & as it wasn't gig day, it was all nice & relaxed. 🙂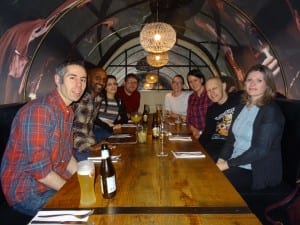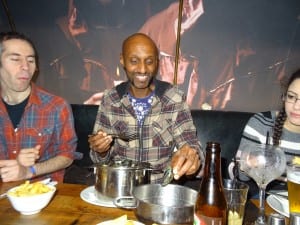 Faiz was quite brave trying a new dish
Before setting off to London, the wheels were in motion for me to get a balcony seat (my tix were standing) courtesy of Leigh. I'd contacted Stumpy & he said to either ask for him at stage door or give him a ring around 6.30. Well, that was the START of it all. When we were having the meal, Julia passed me a note.
Basically, she'd been in touch with Ace & had arranged for us to go in for soundcheck tomorrow as a nice surprise ! How cool was that of her?
Gig day. We arranged to meet mid afternoon. Myself & Rob went to a bar in Brixton as he needed food. The Greggs sausage roll i had was enough for me 🙂 From there went to the Academy. As expected, the majority of the Italian Skunk Army were already queued up. Rob asks me " Do you know any of them?" My reply "Yeah a couple" 😉 So went over to greet everyone. (Funny thing Rob said to me later in the day ; "I thought you said you only know a couple of them? Everyone was coming up & greeting you !" ). After that we started to walk to stage door. Who was walking towards us? Skin ! "Ello Simon! How are you? ". We had a brief chat about how everything's going. Before she left, asked me if we were sorted to get in etc. Told her i've got Stumpys number & we're just waiting for Julia & Nadine to arrive. Skin said she wouldn't be long & if we're still outside when she gets back, she'd walk us in. Off she trotts to meet the Italian Skunk Army at top of the road, before going on her errand.
Julia & Nadine were running a bit late so myself & Rob decided to wait for them. Then, who should come walking along? Erika !. We had a nice chat. She keeps up on my postings on FB & i told her the latest. Such a nice person. She soon went back in the venue & we continued to wait for the girls. Anyways, skin came back & said "I'll take you in so you can get passes etc". For a brief moment there, i was even wearing skins AAA laminate 😉 We got passes from Stumpy, were showed the route through to front of house, then went back outside. By this time Julia & Nadine had arrived & were hanging with Leigh & Stumpy. Heard they were struggling with the internet connection for the FB live thing. After a short while, we all went back in & the girls got their passes. Whilst waiting, Mark walks by. He didn't recognize me to start off lol We saw Ace & he said to go catering for a coffee or whatever, so we did just that. Later he joined us & we had a good old chat. A funny thing ; when he came into catering, he asked "Where's Simon?!!" I was getting a coffee & pretty much stood right next to him! ( "…that bright yellow t-shirt doesn't stand out enough..") Then Cass popped in (From earlier comment "….when we're in London, most of us go home for a while. Cass is the one who's usually the last to get here…"). Already, the day has been super special & it's about to get even better : we go through to watch the soundcheck.
They have a massive & impressive production with them this time. Great big video screens & some pretty special lighting. I'd go so far as to say it's their best yet. (I'm pretty sure they wont be able to fit the production into all of the dates on the tour). The guys start jamming a few bits & it's soon noticable there's a problem with the bass sound. This is quickly sorted & they start playing songs. Whilst they're deciding what to play next, totally unexpected, skin says " You know what? Simon can choose " (Fortunately i'm not so bumbling as when Ally of the Virginmarys asked similar question when he did a solo gig in Peterborough lol). I shout back " Intellectualise !". Cass then quips back "…i gave you a clue Simon!.." (he'd been running through the intro).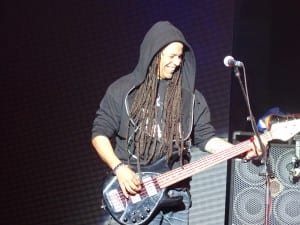 https://www.facebook.com/simon.clapham.3/videos/10208201686215251/
Unfortunately it sounds rubbish as used my mobile phone to record it.
Later on, skin asked what else i'd like to hear! Anyone who knows me will know my fave Skunk song is "Charlie Big Potato". But i couldn't really expect them to do that. So i suggested " 100 Ways ". I also love that song & it was a small payback from me to Julia for arranging this day ("100 Ways To Be A Good Girl" is Julias fave song).
Another really great moment during the soundcheck was when they played "I Will Break You". Erika joins on this. Both her & skin have a "vocal duel" singing how they will break each other lol. But the best is that you can see what fun they're having together. Huge smiles & skin getting a bit cheeking kicking Eris bum a couple of times 🙂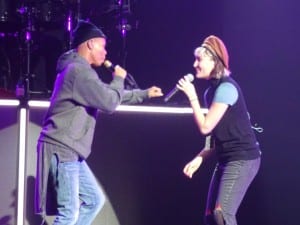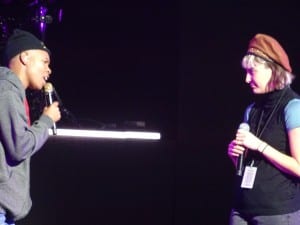 Also played during soundcheck were "Cheap Honesty" & " Without You" + others.
Soon enough, the soundcheck is over & we decide to go find another place for food. The crowd/queue has grown significantly by now. Walking along i see a few friends who were not there earlier. One of which was Aliyah who doesn't live that far from me. She took a selfie of us which i'm sharing.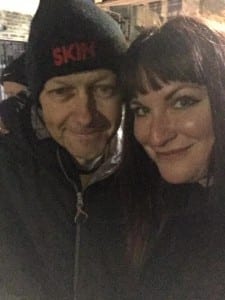 The others had got a bit ahead of me as i was gassing a bit. When i caught up, Julia said " Did you see Laura?!?" Me "What? Where was she?" . I had to go back & see her, shes a great lass from Italy. I've Known her since the Skunk reunion at Water Rats in 2009. I was filming those gigs & gave her my ticket so she could get in (A bunch of people came over for the show even though it was sold out. I'll always help/share where i can). We had a brief chat & then i had to catch up (again! lol) with the others.
Must confess, it did feel a little strange to be leaving the venue at that time & also knowing i didn't need to worry about getting back in later. But at the same time, i just cannot queue up for hours like i used to as i just get tired due to the illness nowadays.
We went to a nice place called Cabana. I had "Guava-cue Chicken". Flame grilled skewers ; "Sweet & fruity tropical barbecued chicken". Was just the right amount.
We had a nice chat about how cool the day had already been & Julia said to me a couple of times " Just relax! You don't need to worry about missing anything". Personally, i don't think i was fretting much anyway 😉
Myself & Rob leave the girls as we wanted to see the opening act "Pearl Harts". Why is it there's always a jobsworth security guy?! Trying to get to out seats he said " You need the silver bracelet to go to seats". We only had Access All Areas duh ! He wouldn't listen so we went back to production office. Stumpy wasn't about but a chap in there said " Go via downstairs standing & take main stairs up. Should avoid the guy". We tried that & guess what ? We came out at same place lol. Amazing thing was, Mr Jobsworth had a totally different attitude. Eventually he walked along the seats & found 2 with " Reserved Clapham " & he let us in…without the silver bracelet ! Dickhead ! ( I later see Leigh & even she had trouble with the guy & had to get silver bracelets)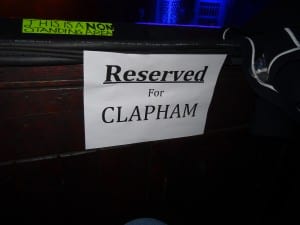 The two girls from Pearl Harts played a similar set to the other times i've seen them open for bands (Garbage etc). Dare i say it ? The song "Hit The Bottle" is already becoming a classic to me. Given the earlier circumstances, it's hardly surprising 😉 The two girls fill out their sound with some guitar loops/tapes which makes it all sound much bigger. The overall sound is a dirty rock n roll kinda thing. Their set flew by & i realised i'd not took hardly any photos & no videos at all. That's a shame :-(. This is about the only one: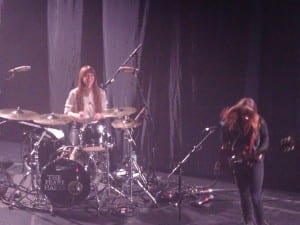 So to the mighty Skunk Anansie ! Lights go down, there's cheers from crowd, white spotlights spinning around to start, which then turn to red & finally just one red spotlight on stage pointing upwards. Yes, it's for the coolest dude in rock n roll, Mr Cass Lewis. He comes over & plays his intro to "And Here I Stand". Such a timeless classic. Down comes the back drop, to reveal tonights massive production. When skin comes on stage you can hear the crowd volume just shoot up. Nope, it's not enough she gestures 🙂
Bloody great start i'd say.
After that, they go straight into "Intellectualise My Blackness". On "Because of You", Marks hitting those drums so hard. Skin really has powerful vocals on this. Dare i say it? Mark was on fire tonight…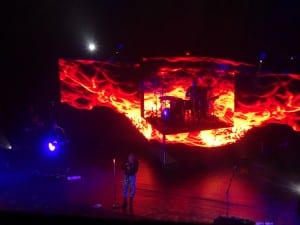 Next it's the fun n games with Erika as they duel on the vocals. Whilst not as fun/unique as during the soundcheck, it's still bloody great. I guess the smiles on the faces give that away.
"Twisted (Everyday Hurts)" has always been a fave live song of mine. Gawd knows how many times over the years i've been jumping around during that one. It does feel strange for me sometimes. I mean, i used to always be down the front, getting in the thick of it all. But i just cant nowadays….
Next we get "My Ugly Boy". To me, probably their most poppy sounding song. Following it with "Weak" & "Hedonism" redeems them though 😉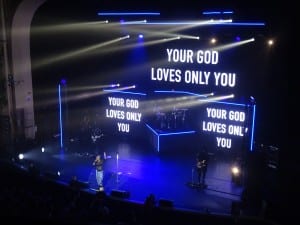 It's funny how an old songs lyrics can still relate to the times of now. For instance, with all the B.S. from Trump nowadays, you could be forgiven for thinking "We Don't Need Who You Think You Are" was written towards him. Following that with "Yes It's Fucking Political" , there could be a message in there ?
During "Little Baby Swastikkka", skin does the now expected visit into the crowd. Though tonight, there seems more members of the audience who DON'T get down when she asks them to. Either way, it's still a great song to finish the set with. I see my mates Nom & Liz in this clip. Again, sorry we couldn't get to meet this time mate.
When they come back for the encore, skinny has a right old rant about Brexit. "Fuck Brexit ! Me & my family are going nowhere! I'm British ! " She doesn't mince her words. Total respect to her.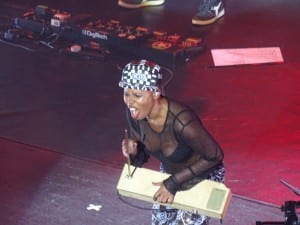 A couple more modern songs follow & i'm then surprised they play "Charlie Big Potato ". I still will always prefer it to be played as an encore as the intro is a great build up to the song. Personal opinions aside, i'll love that song where ever they put it in the set list. It's just fantastic.
They come back for one more song "100 Ways to Be a Good Girl" & that's it for the night. And what a night it was !
We go downstairs to meet Julia & Nadine before we all go up to the after show. (A little secret; i struggled with those stairs this time. My energy levels were depleted, even though i watched the show from seating). Damn that place was super busy as well ! Fortunately, Rob spotted a couple of settees that were available so we went there. It was all catching up with me tbh. Whilst sat there, Cass made his way over & sat on the back of settee whilst we had quite a deep chat (It's the first time all the Skunk people have seen me since the proverbial shit hit the fan). As ever, he was charmed away by some young lady with drinks 😉 But for me, we had a nice catch up. Eventually, i decide i've had enough & we try make our way through the throng. Skin is holding court with the Italians again & we continue by.( Julia later on " Simon i'm impressed you passed by her" 😉 ) I quickly had to have a word with Ace, to thank him for arranging the day. Final photo of the day/night was this :