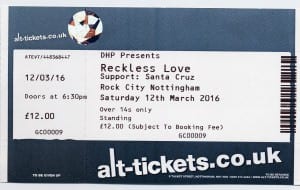 I'd been looking forward to this gig for some time,yet,when the day arrived, i just couldn't get motivated for it. Lots of crap going around my head & generally confused about situations. Eventually, i decided on the old adage of " It'll get better once there" so i zipped off to Nottingham. Upon arrival there were about 10+ peeps in the queue, so i decided to wait for next hour & half +. Had a nice laugh/chat with a Czech girl from Leeds who had followed a few shows (Hi Barbara). Took a while for queue to grow, but eventually it got as far as the car park. Once inside, again i was disappointed as they didn't open the balcony. Oh well, back to position number 2 under the stairs 😉
After a while my mate Steve rolled in…with the 2pint of beer..Had a little chat & then they wandered off into the crowd.
The first band, "Santa Cruz", i'd seen before. They're quite a "trashy" band. Went down well with the crowd.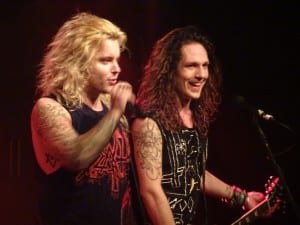 As always, Reckless Love delivered. They're such a fun live band & the quality of songs has always been consistent. Of course, to many of us, Rock City is paradise, so Reckless Love came back to paradise 😉
And then they set the night on fire…
After the gig, i met up with Ady & we had a natter about some stuff that had gone down & also considered the possibility of Download festival. Still nothing definite yet.