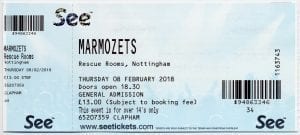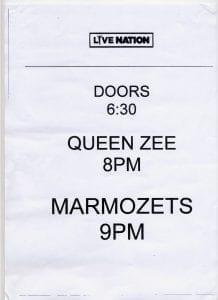 I left Hotel Rob reasonably early & was surprised just how busy the tubes were. I hate it when they're so rammed as this day. Good thing i gave myself enough time to get to St Pancras for my train up to Nottingham 😉 Even though i had already booked a hotel in Nottingham, my mate Andy T. was going to drive to Notts & meet me & then drive back to Bostonia after the gig. When my train got into Nottingham, i had a quick look in FOPP, before going to my hotel (Premier Inn, round the corner from Rescue rooms & only cost £31). Once checked in, i went to the Gooseberry Bush for some food. As it was Curry Club night/day, i decided to have the obvious 😉 Couldn't believe the size of the poppadoms though ! They were literally same size as the curry bowl ! (They're usually much bigger than this)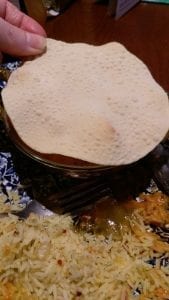 After having food, i went back to my hotel & waited for Andy to arrive. As he'd come pretty much after he'd finished work, he went & had a crappy Burger King. When we got to the venue, there was only a small queue (which surprised me really, considering it was sold out). I went to the side door & had a word with security, explained i needed a stool (They've still got GREAT ones!) & that Andy was my carer/companion. We hung around for a few minutes as the soundcheck was taking a bit longer than expected. One of the security chaps went to find a stool & put it up in the balcony for me to go to. Once inside, another security guy brought a couple more stools up, so Andy decided to sit on one of them 🙂 That was excellent service tonight. I wish it could be the same always ! (I still don't get it why Rock City threw away all the old seats/bar stools as the new seats are pretty useless if you want to actually SEE anything from the balcony! Fortunately, i know another good position where these new seats are viable to use )
So, once again, it's "Queen Zee" opening. Both of us don't really like their sound etc. I think we were talking more about the bra that the singer (male) was wearing !
We had the perfect position on the balcony to see everything. (After the rubbish experience in Cambridge, i couldn't wait to see them at a venue with a balcony!)
Marmozets set starts with "New Religion" & then it's a great 1-2 of "Habits" & "Is It Horrible?".
I love hearing Wills bass intro to "Like A Battery", it's so deep & heavy. At the end of the song Sam says to the crowd "You guys are fuckin awesome". Then someone in the crowd shouts " We love you!" Becca reply's with "Guess what? We love you too….newsflash !". She then says "Are you ready for a Move,Shake,Hide sort of situation? Show me what you've got Nottingham !" Queue huge cheers from the crowd & lots of bouncing around on the floor. Next up we get another classic Marmozets song, "Weird & Wonderful". Again, it goes down a storm. Towards the end of the song, at the "…I can see it in your right mind,Ever thought to wonder you're not typical.." part, Becca lets the audience finish with the "…You're weird and wonderful…" part & she says "Yeah you are !". One of my favourite new songs is "Insomnia". To me, it sounds like a messed up (in a good way) lullaby. Good to hear the crowd singing along to it as well. No messing around they go straight into "Meant To Be". During the middle part, Sam shouts out " Let's see you Nottingham ! C'mon Let's have it! ". Crowd is already going crazy & a small circle pit happens. During "Particle" it's just the same. A great high energy crowd tonight.
As the intro to "Play" starts, Sam says "..try to get over here…" (to the crowd)
Before "Suffocation" Sam asks Joshy if he "can get the crowd going a bit more?". Josh leaves his drum kit & wanders down to the front of the stage. He then puts his finger to his mouth, trying to make the crowd be quiet. He then throws his arms in the air to make em all cheer. He does this for both sides & then of course it's a group effort. Becca then notices some one in the crowd & asks if she'd like to get on stage to have a photo with the crowd! Never seen that happen before. The lass gets up & the photos are took 🙂 Song goes down well & is finished with Josh doing a little drum solo (whilst the guys are tuning up). Becca asks the audience " Do you believe you were born young & free & you can do whatever the fuck you wanna do? Good on ya !" Yep , it's time for a rousing version of "Born Young & Free" 🙂
Afterwards, Sam says that Nottingham is the first crowd to have NOT crowd surfed yet. This gets drowned out by loads of the crowd wanting to hear "Vibetech" haha. He then says "Why the fuck is everyone shouting for Vibetech?". Becca then says, "How about if when we come back next time, we'll play it then?". It's a done deal as far as i'm concerned….but i reckon it will be Rock City next time they come back 🙂
So, during "Lost in Translation", the security have to work a bit harder as there were so many people crowd surfing. There were only 2 of them (security) but they did a great job of getting the surfers over the barrier etc.
"Lost in Translation" is really cool live. Another new one follows, namely "Run With The Rhythm". We're getting close to the end of the show now…
"Why Do You Hate Me" is as ferocious as ever. Bloody love it.
Sam then says "When you go to gigs…the people who look after you , are fucking awesome…Becca, i want to get a picture with these" (He's talking about the 2 security guys) So up they get & that's a photo took with the security & all the band…shame they never posted that one. (Here's a rubbish screen cap 😉 )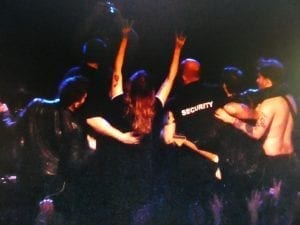 The funny thing after that was Sam then said "Ok, we got a picture with them, but lets make em fucking work now !" Absolute classic haha
Before "Major System Error", Becca says "This is one of my personal favourite songs we've ever wrote…& it's ok to like your own stuff…there's nowt wrong with it at all!" . It's really cool to hear the crowd sing the first lines on their own. I guess that means it's a thumbs up for for the newest album.
What song could they finish with ? Yeah, you guessed it, the beautiful "Captivate You". Loads of people got up on others shoulders & sang their hearts out.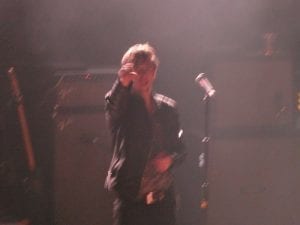 This was most certainly a great night out !
We wait around for a couple of minutes so the majority of the crowd can get out of the venue. When we walked down the stairs, who should be coming up them,but Sam. I said to him it was another great show,thanks.
Once outside, it was raining a bit. Andy took a tram to go get his car, whilst i went into my hotel to grab my bag & checkout. We'd arranged to meet close by, but there was a little confusion which street he'd parked on 😉 Once we'd found each other we were soon off back to Bostonia. Unfortunately, the weather got worse as it pissed it down! Some parts of the road back had massive puddles, which couldn't be avoided. I know it was hard work for Andy to drive in these conditions (he doesn't drive much at night nowadays), so much respect to him for coping with it & getting us home safely. Can't remember what time we got back home, but i was straight to bed once there ! Once again, thanks Andy for driving.
The following day was a "day off" from the travelling, which i most certainly appreciated. The only downer of the Saturday was that i was told my sister had gone back into hospital 🙁