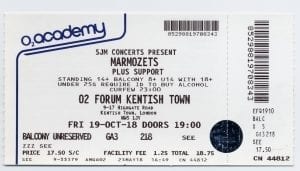 The day before this gig i'd had a "fun" day…NOT! Thought my bloods were ok to proceed with next round of chemo, but they phoned & said they weren't. Ended up waiting in Pilgrim for results & having the chemo. Once that was done, a chap took the canular out & said i could leave. What ?
Why is it that i always seem to have to think for others ? I tell him that usually when i leave i take a whole bunch of drugs with me ! "Oh, i'll look into that". The drugs are sorted & again i get the prefilled needles. Same again, i have to remind them to give me a sharps box! I'm so pissed off with everything at this time. Even unsure if i should go to the gig tomorrow.
After seeing Josh posting that they might play some new songs at this gig, i thought i shouldn't miss it. Could be an interesting night….even though i didn't feel quite right.
Once again, i took an early train to London. It was quite misty/murky for a while, then the sun burned it away. Again, at Grantham, my train was cancelled (Hull trains seem to have some serious problems!) As i'd already experienced this a couple of weeks ago, i knew what to expect lol. Not only that, i knew exactly which screen to check out that showed how busy the carriages were….don't think many were aware of that 😉
Arriving in London, i headed straight to Hotel Rob. Today, Kristina was off work, so it was gonna be a nice relaxed day. Dropped bag off, had a catch up & then we went into the city. As per, visited FOPP. Kristina got the latest Amaranthe album & i got a bargain with the latest AVATAR only costing £5 ! (I've got to say, i enjoyed them when they opened for Halestorm. Pretty entertaining band). Next went to the other usual haunt, "The Montagu Pyke" & had some food. Arranged to meet Rob a bit later & then headed towards Camden.Once there, straight to the Ice Warf. Jim & Paul were already there 😉 Had a natter & drinks then decided to walk to the Forum. It had been a while since walking that route, so seemed longer than it was . Got there in perfect time though. The support act "Jamie Lenman", i didn't enjoy.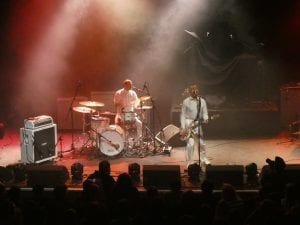 Just a bit boring & repetitive.  Sat next to me was an old geezer. We had a good chat & we seemed to be on the same page. He was/is a sound engineer, so straight away he said the sound was bad 😉
Tonight's Marmozets gig wasn't quite as good as i was expecting. Something just didn't seem quite right up there. (Maybe something to do with Joshys recent mental issues? Whatever, i hope he gets well soon & the band get back to being super tight again) Don't get me wrong, they were still great, but i was hoping for at least a couple of new songs (After Joshy said they might play some new songs). The one new song they DID play was quite cool. A typical Marmozets song. I think it should have been on the last album 😉
I also think that after the previous day when i had all sorts of problems, i wasn't quite in the right frame of mind. It happens sometimes.
Another thing was that i dropped my camera during the show. As the lighting wasn't very good, i didn't know if that drop had messed up the camera or not.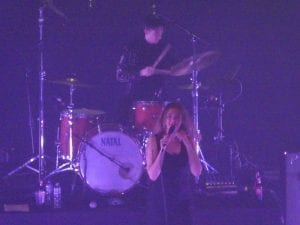 I did film a couple of songs, but certainly not up to my usual standards.
Overall, i think the highlight of tonight was that they played "Cry", which i don't think they've done for quite some time.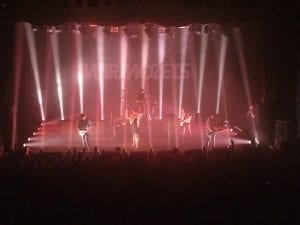 Gotta say, it was a wise choice to make up the pull out bed earlier in the day, as once back at Hotel Rob, i was out like a light 🙂