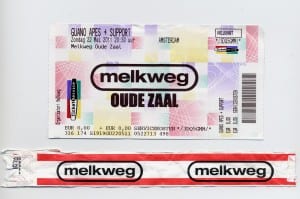 Wow ! A dream come true : Seeing my fave band in the Melkweg & being able to film the show. Unfortunately, it ended up being an absolute NIGHTMARE ! Due to a lack of communication, Melkwegs security were somehow not aware i was allowed to film. About 3 songs into the set, security downstairs start shining torches at me. Then i feel someone grab my leg from below ! (I was on balcony & it was pretty much directly below where the sound desk was) Security told me to shut down. Obviously, with all the volume etc, it wasn't easy to try explain…especially to a total dickhead security guy ! Talk about shot down in flames.  There was really no need for this to happen. On previous tours, i'd always get an AAA laminate-no one messes with those-but for whatever reason, i just got the stickies this tour. Yes, a recipe for disaster if there ever was one.
A great show, but i just couldn't get into it after the B.S.
P.S. The security didn't totally "win". Me being me, i still carried on running audio of the full show with my mic in plain view !
P.P.S. Royal Republic totally rocked the show tonight. They're such a fuckin great live band. Here's a little footage i shot of them 🙂
As for the Guano Apes footage? Nah, it's staying with me & not gonna upload it ever 🙂