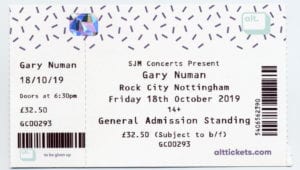 Tonight I stayed at "Crown Plaza" hotel. Why ? Because I'd got a voucher to get it much cheaper. I met Neil at train station, then we took a tram to TRC stop. As Neil hadn't checked into his hotel, he dropped of his bag in my room. We then went to get food. Wethers as always 😉 Neil didn't have his credit card with him, so I paid for the meal. I think after finishing we went back to my hotel. Neil then took his bag so could check in at his hotel. I stayed in my hotel, just to get a bit of rest. Later, we met up & made our way to Rock City. Tonight Neil was my "helper", that we he'd get a complimentary ticket. Managed to get in early, so went to my usual position. (Neil joined me there). Something I didn't realise at the time, another friend was up in the balcony !
The support act didn't impress me one iota ! Wasn't much crowd when they played, but it did gradually fill up. When it was time for Gary Numan to take the stage, the place was rammed. I didn't take many photos tonight as was really getting into the show. The setlist was : My Name Is Ruin , M.E. ,That's Too Bad, Stories, Metal , Absolution, Dead Sun Rising (Remix) , Down in the Park ,
The Promise ,Cars , Here in the Black , Halo , Me! I Disconnect From You
A Prayer for the Unborn , Are 'Friends' Electric?
Encore: Replicas , My Shadow in Vain ,Intruder , Jo the Waiter
Was a really sound gig tonight. Most of the hits & Mr Numan seemed to be enjoying himself (Bonus). After the gig, myself & Neil said our goodbyes & arranged to meet up for breakfast the next day. Oh, forgot to say, when I originally checked-in, one lift wasn't working. Guess what ? When walking back to the hotel, saw a fire engine out side. Reason why it was there ? The other lift wasn't working ! Not only that, but a couple had been stuck in it for about an hour !! Eventually I had to go up in the service lift. Next morning there was a letter which had been posted under my room door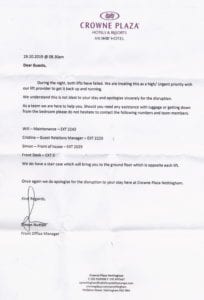 No kind of compensation was given ! Next morning met up with Neil & we had breakfast together. All in all, a great day away. Also, I'm staying in Nottingham for tonight to see "Royal Republic". Staying at a Premier Inn this time !