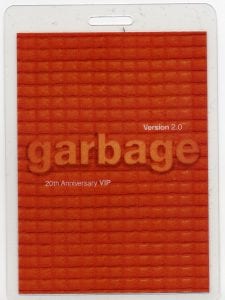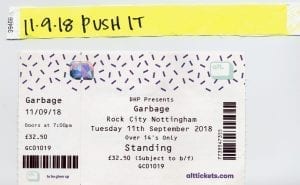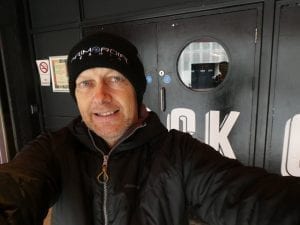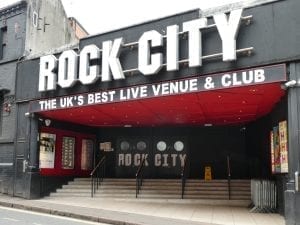 I'd been looking forward to this gig for ages. Was hard to believe i'd not seen a gig since June ! I knew i'd be meeting a lot of friends at this show, so that made me even more interested.In the end, i decided to do the "Push It" M&G package ! It cost around $300 ! Reason i did it was that this could be my last chance to do this sort of thing. I took a train which coincided with when Rob & Greg would be changing trains at Grantham. As usual, it was just 2 carriages & quite busy. But managed to get a table seat for when Rob & Greg joined. Once aboard, Rob got some cans out "Do you want one?" Me : "Are you taking the piss !?" (Just a slight slip up, but still joked about it). We'd planned that once in Nottingham we'd got get some food, then go check in hotel. I also needed to visit Jessops to try pick up some photos. Luckily they had arrived. I think after that, took em to the hotel then briefly went to meet everyone around the corner at "Alberts" (This used to be "Spanky Van Dykes"). As i was feeling tired, decide to go back to the hotel before going to RC for the M&G (I might have got the order of things wrong lol) As i was doing the M&G thing at 4pm, Rob & Greg went to the pub (Nothing new there lol)
Before going in, i saw a few people i know,namely Paul A, Renee A, Leisha T, Jonathon C,Nigel M etc. Everything went very smoothly with regards to getting in & having my seat in my favourite spot. Emily, who was the concierge organising the M&G was a very nice & bubbly person. You could see she loved her job & interacting with the people doing the M&G. We were took through to watch the band soundcheck. After that, we went into the side room called "Black Cherry Lounge" (Which was once called "The Rig" where they had a few gigs in there. Terrible place for a gig!). The band then came out to chat doing a mini Q&A & they also seemed very interested where everyone had travelled from. When they announced the remaster of Version 2.0, i was really hoping they'd do a 5:1 surround mix (As i thought their style & way of recording would work perfectly), but unfortunately they didn't do it 🙁 So i had to ask the question 🙂 Butch seemed interested in the concept of doing it maybe in the future, but Shirley also said something like "How many people do you think have the equipment to play that stuff" That was a reasonable reply i guess.
After the chats, we all lined up to get a photo with the band. I came prepared as i brought a previous photo from the Troxy show & also one that a friend in the States had done 😉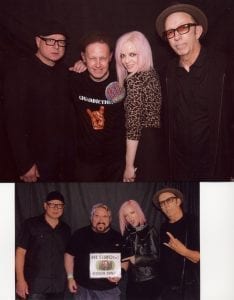 This is the actual photo from the Notts M&G :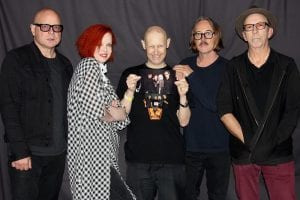 We then went into the foyer & had a look at the merchandise. At the time, they were still setting up the stall, so Emily said "If you want to come back a bit later, buy your merch, then take it to your hotel, you can still come back & get in earlier than the everyone else". Excellent.
I've got to say, the prices of the merch were really quite extortionate ! I mean, a pair of socks for £15, a very small rucksack for £50 (apparently it was £60 at previous shows), a track-suite style jacket £90. You get the idea. In the end, i succumbed to purchasing a few items…might even get something else at Brixton. Rob, being the biggest Garbage memorabilia collector, bought everything ! Emily seemed quite shocked 😉 Rob got chatting with her about his website http://www.garbagediscobox.com/ . After taking merch back to hotel, i went straight back to RC. I managed to get in even earlier than expected as the security guy asked me if i wanted to go in then. Was quite funny when i saw all the other M&G peeps walking in later & Emily saw me sat down "Oh Simon i'd been wondering where you were "! She went to the barrier to chat with people. Then i had the bright idea : " I wonder if as Rob has bought so much merch, she'd let him in early as well?" So i asked & surely enough, she went & got him. They both had a good rapport. Rob even managed to blag a Tote bag from her 😉
The room started to fill up & soon enough Jim came to join us. Poor old Greg, in his hurry to get to the front, slipped on the steps & almost face planted himself on the floor ! (At least no one saw it…oops 😉 )
First band of the night i'd never even heard of them (actually that's wrong, as Nigel told me a bit about them earlier outside the venue). Personally, i found the Estrons very "samey". I seem to find nowadays that it's very rare that a new band impresses me. Sorry, but not sorry.
So, to the main event of the evening : GARBAGE !
They kicked off with "Afterglow". A very sombre start.
Next up it was "Deadwood". When they play "Temptation Waits", i couldn't help wishing that i was down in the thick of it jumping around etc. I really miss doing that. Actually, i was surprised at the lack of people in the audience NOT bopping around during the song. Next up it's the groovy "Wicked Ways". During this one, they meld in a part of "Personal Jesus". It works perfectly.
Before "Special", Shirley explains how rock City is a special place for them. They have footage of the first time they played here. She goes so far as to dedicate the song to Rock City & all the staff & of course all the fans that have travelled on the journey with them.
When playing "13x Forever", they meld in a short lyric from The Kinks song "Tired Of Waiting". I can't remember exactly when it was, but sometime during the gig, there was a mistake & both myself & Rob instantaneously picked up on it (We looked at each other with a face of "What The fuck?")
Before "Get Busy With The Fizzy" Shirley mentions that she'd forgot how hot Rock City can get. Also talks about having an argument with her dad earlier in the day. She's also cracking up laughing. Is this the start of the downfall ?
Hmm, maybe it was during "Hammering In My Head" that me & Rob had the "WTF?" glance together at same time ? If it wasn't then, then certainly around the time of "Medication".
Shirley has a massive rant about some kind of recent review. She starts off by explaining that when they covered "Thirteen" (Big Star) how proud she was that Alex Chiltern (main song writer) had said it's his favourite cover version by any band ever. She then tells the band about how just before the show, she'd read a review online which some young lady had wrote about Thirteen & she was apparently disgusted about said cover version. (As she's saying that, Rob shouts out "Shes a cunt !" haha) She then tells us that after being in the business for many years, it still bugs her when she reads a review like like. But she continues saying "Well fuck you mother fucker…cos the man who wrote it loved it " (with a massive smile on her face). Towards the end of "Can't Seem to Make You Mine", Shirley goes over to Duke, who at the time was playing keyboards. She joins in with him. To start of, i don't think that Duke was very impressed by that move. I could also see Billy Bush looking on with a "WTF?" kind of expression. But once Duke had accepted that Shirley was tinkering with the keyboards, Billy had a massive smile on his face 🙂
Towards the end of "Sleep Together", Shirley ends up writhing around on the stage floor 🙂 Next up it's a rather feisty version of "Dumb". It's funny when Shirley goes over to Steve O 🙂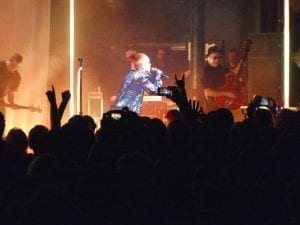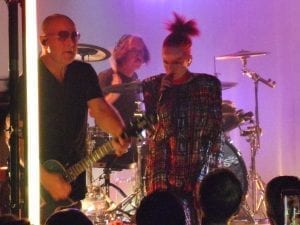 During "Soldier Through This", Shirley seems to get very emotional. (I can't help thinking of the lyric "I feel Intoxicated", as i'm sure she is lol) After that, it's one of my favourate songs "Lick The Pavement". It's an absolute rocker of a song !
Next we get "Push It". Shirley is all smiles & the audience is helping out by singing some of the lyrics. I also think that around this time, the booze is really kicking in as they have to restart "When I grow up"
Second try…
The version of "The Trick Is To keep Breathing" i can only describe as embarassing.
When Shirley is introducing the band & comes to Eric Avery, she says " He's one of my best friends…i'm in love with him… the fact that we get to play with this formidable talent is insane.." But then she says " Anyone who's a Janes Addiction fan, go fuck yourself" (Flicking the bird).
Well fuck YOU Shirley ! I bloody LOVE Janes Addiction, almost as much as i do Garbage. But i'll let you off this time as you were obviously "under the influence" & you also confess that you are drunk 😉
Tonight's extravaganza finishes with a cover of David Bowies "Starman". It was so good, they had to do it twice 😉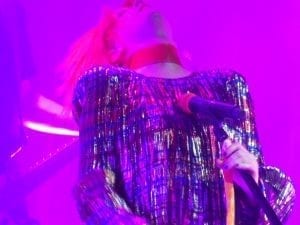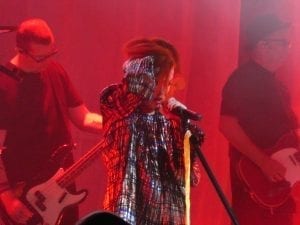 Afterwards, whilst chatting with Lou & Anne, i made an unintentional pun by saying the show was "Absolute Garbage". I think everyone then went to the Rescue Rooms to carry on drinking & chatting about the gig. Myself, i was bloody knackered, so went straight back to the hotel.
The following morning, i noticed that one of the pair of socks had a hole in them ! So i asked Rob to exchange them when he goes to Newcastle.
Whilst at the time i was pretty annoyed about the performance, in hindsight now, i realise that EVERYONE has a bad day in their life. It also reminded me of when Mark from Skunk Anansie asked me why do i see multiple gigs on the same tour. My reply being that no two gigs are the same. Sometimes the band played perfect & others there could be technical difficulties or the band don't quite gel. Also, for myself, different audiences can play a part in how i enjoy the shows or not. So i guess tonight was one of those nights where Shirley had an off night. Maybe some people might think i analyse it too much. But if you REALLY know me, then you'll know i LOVE music, especially LIVE music. We may have different opinions on things, but i always speak what i think. Also, with this show, you could look at it multiple ways : some might find it funny, some might be disappointed, some might not even notice the problems ! Everyone has their own opinion.
I was pleased to hear they played a great show in Newcastle the next day & am really looking forward to seeing both nights at Brixton.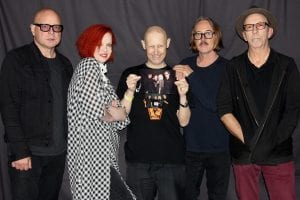 EDIT : The following day Shirley apologised for her performance. Apparently, after the argument with her dad, the combination of painkillers & whiskey put her over the edge. I also found out from a friend that a few people waited for the band to come out in the hope of getting stuff autographed or to have photos with them. Apparently, all the band, except for Duke went straight to the bus.