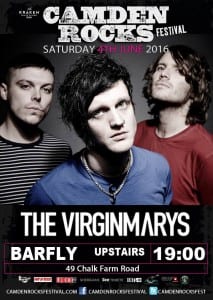 This was my 3rd Camden Rocks festival & tbh, once the set times etc were announced, i thought it sucked due to clashes etc. We decided to travel down on the Friday & crash at Robs. Unfortunately, at Grantham train station, Andy lost his footing on the steps & badly twisted his ankle. This is now the 2nd time he's done Camden Rocks with a messed up foot! Saturday morning, we set off early & i realised i'd lost my booking reference number for ticket collection! Soon got it sorted though. We then went to the usual Ice Wharf for breakfast. First band we went to see was The Peart Harts @ Belushis Cavern. It was quite busy & a whole bunch of the VMs family were  there as well! Bonus 🙂 I was stood at the side w/Tina & it was quite a good view until some ignorant lanky git decided to stand in front 🙁 The Pearl Harts went down very well. Initially, the sound wasn't great,but, as Rob pointed out, their manager near us told the sound guy what needed doing 😉 I must also say, in that small place the sound was just great & so much better than when i saw them open for Garbage in Amsterdam last week. We then made our way towards The Black Heart where we were gonna split up. Funny coincidence, again , i bumped into Eva as she was crossing the road ! The other guys went off whilst myself & Eva went into the venue. Got drinks & joined the others upstairs. I didn't know anything about Dirty Thrills, but thought i'd give them a go. Obviously, being a London band, they had good support. I really dunno what to make of them! Need to hear them again.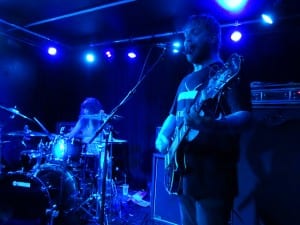 Next up it was Hyena Kill. I watched a few songs before i got a msg from Rob saying i should check out what they were watching at the Barfly. Even though i DIDN'T make it there in time, it was probably the most decisive moment of the day : I got in upstairs before it got busy with queues. I saw " Qemists" & was very impressed with them. Was the most lively set so far of the day.
I then decided i wasn't gonna move & stayed for "Creeper". What can i say ? The kids loved them 😉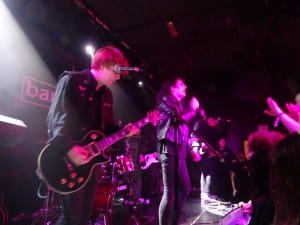 Both Qemists & Creeper had very busy crowds & even circle pits. Pretty sure it will stay like this for rest of the night…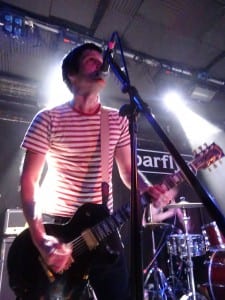 So, to the main act ; The Virginmarys. I was wondering if they'd pull out anything different in this short time slot they had & was very impressed with how they started the show, doing "I Wanna Take You Home ". Totally unexpected & it made for a great opener. Looking over, seeing people really singing along was great.  No letting up, they went into " Halo " & already i felt the atmosphere in there was electric. I was very pleased to be in my little spot front left as i sensed everything was really gonna kick off tonight & i didn't want to have to drop back (for obvious health reasons). I filmed "Falling Down " & from then onwards, the short set just sped by. I gave up trying to take photos or any more video as things were not easy down there.
Later on, seeing the whole front row to my right basically falling over onto the stage, numerous times, was just crazy. Good old Ally did tell everyone to look after each other, for what it was worth 😉 This was easily the most active crowd i've seen at a VMs show, hell it was a total mosh session in there.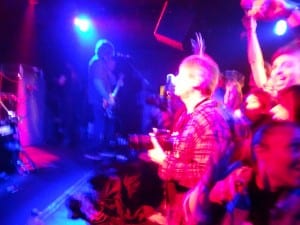 The last song " Just A Ride " took things past overdrive. It really was a bloody mess in that crowd. I'm sure there will be many bruises, sore arms n legs & general "battle scares". I hope everyone came out of it reasonably well ! Afterwards, once again Gareth gave me the set list (cheers mate) & we all soon went outside to cool down etc.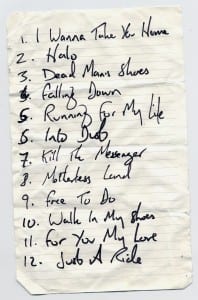 I had a nice chat with Ally & Danny (got photos which will follow when Andy sends them to me!) & arranged to maybe meet at the Stone Free festival. There wasn't any other bands i really wanted to see now & as Andy was in considerable pain, we decided to leave. I few quick hugs & goodbyes (sorry to a bunch i know i missed) to the VM family & we were on our way. Final thought : Over all it was a good day,but, easily the weakest Camden Rocks i've been too. Too many clashes & not the best headliners. I reckon i'll probably only go next year if Virginmarys are headliners. Well come on, they deserve it i reckon ! As ever, thanks to all the VMs family. It's always a pleasure to spend time with every one of you beautiful people. Roll on the next gig (s)