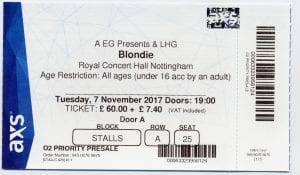 I got home quite late after my trip to Amsterdam. The next day,as usual, i went round my mums for lunch. Come 2.50pm i was on the train to Nottingham. It was delayed slightly due to COWS getting on the line! Checked into Roomzzz & chilled a while. As this is a seated venue tonight, i decided to wait a good while before going to the RCH. Btw, i was very lucky to get a seat on the front row ! However, i was very surprised to seen the stage had vari lights (or something similar to them) all along the front of the stage. The size/height of them obscured my view when sitting down (In fact, it wasn't much better when stood up lol. For sure i'd be standing up for this show 😉 )
The opening band, " Mustang " were from France. They started with a nice instrumental number. After which, the lead singer told us they are French & sing in French !
Oh deary me ! 🙁 Whilst i didn't understand much, they had an "upbeat" sort of sound & it wasn't as bad as what i was expecting. I did think they were a strange act to have as openers. Whatever, i was there for Blondie 🙂
The lights went down & the screens showed images of a swarm of bees, complete with appropriate sound. I briefly thought of when i recently saw the reunion show of "Voice Of The Beehive" & the connection between the two bands (Blondies latest album is called "Polinator" ;-)) The band ambled onto the stage….the way the bassist was walking reminded me of Ozzy Osbourne, as he seemed a bit jittery !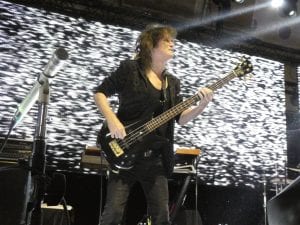 They start the show with one of their early classics "One Way Or Another". Just about all the audience were up on their feet dancing & singing along. It was nice to see security didn't try to stop this 🙂 (A memory came back to me of seeing Siouxie & The Banshees in this same venue back in 1985, where the security were being dickheads by not letting the audience stand up & dance. Siouxie was not happy seeing this & it ended up with the bassist throwing his bass down & jumping into the crowd to stop security! Siouxie followed this with the words "Bring me the head of a bouncer man". Sorry, i digress..) Next up we get another old hit " Hangin On The Telephone". This stuff takes me back to my teens. Love it !
We then get a few songs from "Pollinator", firstly " My Monster" (I must confess that i don't have that album. Debbie asks us all if we're having a fun night. Cue the next song "Fun" 🙂 The big hit song "Call Me" is next. Another newbie, "Gravity", is followed by "Rapture". Back when i was a kid, i hated this song ! It was nothing like the old school punk/pop stuff they started their career with. However, over the years, i've become to appreciate it. I guess at the time, i didn't understand the whole thing of bands moving forward & trying different things. I just wanted the old Blondie back ! This song & "The Tide Is High", pretty much stopped me from following the band. Nowadays, id say they were ahead of their time 😉 A couple more new songs (Well, new to me lol) & then we get the come back hit of "Maria". then its back in time, for one of my favourites "Picture This". A nice amount of crowd partcipation is with this old classic.
"Atomic" is sheer class. They finish the set with "Heart Of Glass", another of my all time favourite pop songs.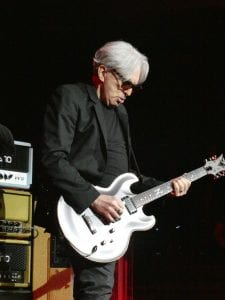 The encore is "Union City Blue". Once again, i'm transported back to my youth.
Tonights show finishes with "Dreaming". Man the countless hours i used to play "Eat To The Beat" album. Overall, it was a great night out. I still love Blondie 🙂 P.S. "The Tide Is High" was on the set list, but they skipped it.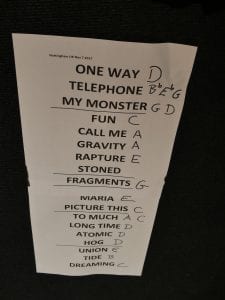 Tonights entertainment finished around 10.30pm. Had a brief walk to my hotel & once my head hit the pillows, i was out like a light 🙂 I've wrote this in my hotel room,which i've not done before (Maybe i should consider doing it again so i don't end up with backlogs of gigs to write up?) Soon be taking my train back to Bostonia. Tomorrow i'm back down London for the rescheduled Marmozets gig. No rest for the wicked…